"75 Bleeding Edge Search Engines" … according to CMS Wire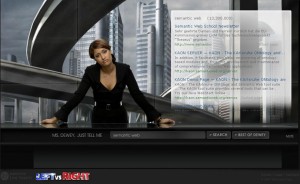 This article on CMS Wire from July 10, 2008 is a nice read for all search engine afficionados. It lists 75 web search engines and categorizes them according to their technology and application domain. In the category "Semantic and Natural Language Search Engines" you will find usual suspects like Powerset, Hakia, Swoogle, Intellidimension, Falcon, Yahoo! Microsearch, SWSE and Watson. Sadly not in the list is Freebase Parallax, but I doubt they have been online by then.
Personally I like the category "Bizarre / Strange Search Engines" most. Ever used Ms. Dewey, a
Microsoft search engine …
that sings to you, insults you and lives under a highway flyover in a futuristic cityscape?
At first sight a really good laugh. Discussing it from a gender perspective would definitely be worth another post.