Putting Together A Personal Conference Schedule (triggered by: TRIPLE-I)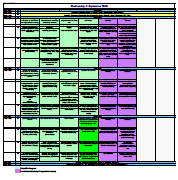 I do admit that I am probably a bit picky here but I whole-heartedly HATE the process of having to read my way through conference schedules, in particular through the ones that have four or more parallel tracks running. Me and my colleagues have been looking forward to the TRIPLE-I for quite a while, and my adhoc resolution for the NEXT i-Semantics (which is one of the three parts of the TRIPLE-I) is to initiate the development of an end-user oriented conference planning tool supported by faceted browsing: something that would allow me to sift through the pile of conference events quickly, changing perspectives as I wish, fading in and out not only tracks, but also topics, institutions and people.
Perspectives I'd apply would be for instance:
What are talks or presentations that discuss visualization in an industry-applied context?
The same thing in a scientific context?
Which talks are addressing knowledge management and web 2.0 at the same time?
Which talks are in English?
Which presenters are Austrian/from the University of Trier/ from Overseas?
Which are relevant for the Linked Data scope?
etc. pp.
Such a tool would be a nice showcase for the conference itself, and – using Exhibit – shouldn't be that difficult to put together (I think). In the meantime, I'll have to keep studying the three pages Excel to PDF export of the detailed conference schedule (and yes, I am probably underestimating the cognitive value and more sustainable side-effects that studying such finely printed pages has:-). At first glance, these are the top three talks on each day that interest me most – for now, and disregarding German language presentation (results might change if I study the program again on Tuesday, which I will, so don't be offended if you're not on it:-)
Wednesday, 3rd of September:
– Semantic Search and Visualization of Time-Series Data
– Community Rating Service and User Buddy Supporting Advices in Community Portals
– Harnessing Wikipedia for Smart Tags Clustering
Thursday, 4th of September
– Seeding, Weeding, Fertilizing – Different Tag Gardening Activities for Folksonomy Maintenance and Enrichment
– A Model for Document Processing in Semantic Desktop Systems
– Non-linear Story-telling in a Mobile World
Friday, 5th of September
– Collaborative Knowledge Engineering via Semantic MediaWiki
– Building Ontology Networks: How to Obtain a Particular Ontology Network Life Cycle
– Improving Recommendations by Using Personality Traits in User Profiles
For more about the conference, go to the conference website.
And anyone who is planning to attend TRIPLE-I: I have just registered Semantic Web Company account on 12seconds, a platform for micro movies and I am looking for interview partners – it won't take more than 12 seconds:-)