Boards.ie SIOC Semantic Data Competition starts September 1st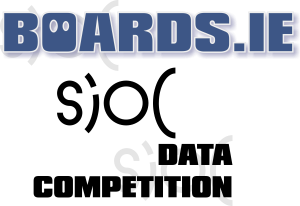 Ireland's largest online community boards.ie is offering a massive amount of data for download. It contains all the data from 10 years of discussions with topics ranging from banter through politics to philosophy, and is semantically marked up with SIOC and FOAF, which amounts to more than 9 million RDF/XML documents.
Additionally DERI is starting a competition looking for the most innovative use of these data. According to John Breslin, this could be
a novel web application that makes use of the data set, a report on analyses performed on the data, a tool that allows one to visualise or browse the semantic structure, or whatever else the imagination can come up with!
During my stay at DERI over the last couple of months, I worked on exporting and preparing this data set, so I am delighted that it is now used for this competition. It starts on the 1st of September and runs for two months. The prices for the top three submissions amount to a total of $7000.
Read about the details, sign up and download the dataset here. Damien Mulley already has a couple of ideas of what one could do with these data.