Zembly and its uses for the Semantic Web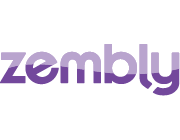 I've just published an interview I did with Jiri and Ryan from zembly, the new 'wiki for code', where "users can share, clone and modify widgets and applications for Facebook, Meebo, iPhone and more". I also raised the question how zembly matters to the Semantic Web/LOD-community – here is their answer and a link to an example of an application for the Semantic Web (login is required to gain access – free beta invites can be obtained from the widget in the sidebar of our blog – scroll down):
Q: What could be possible applications for the Semantic Web Community and how could the Linked Data Community benefit from zembly?

A: This is a great question! While social element is very key to us (social platforms provide identity services, social graphs, and distribution channels), zembly is also about building situational apps, which are often based on various data sources. zembly is great in accessing web APIs – it's just a single JavaScript statement to access many of them.

When you combine aspects of common vocabulary and common access mechanisms of the semantic web on top of it, widgets and services suddenly become even more interoperable. So I think the Linked Data Community will benefit greatly. With zembly, it's incredibly easy to create and host applications that leverage the data web. And we would like to make it easy to build providers for the data web too. The basic pieces are already in. Now it's just a matter of putting them together.
Here is link to a service Jiri built for querying dbpedia: The service automatically extracts all of Sean Connery's film partners and makes the triples available in JSON format (access only after login, so you'd need to get your beta invite first).
Zembly were also a sponsor at Facebook's F8 conference, here's a look back on the conference by Jiri on the zembly blog.
Related articles:
The full interview with Ryan Kennedy and Jiri Kopsa on our website
My first blog post about zembly from July 8 with a brief introduction for using it