Freebase Parallax: Browsing ad infinitum
With David Huynh's Freebase Parallax, an inspiring new user interface has come out, which conveys a sense of a future where googling isn't the ultimate way to find information on the web. David was also strongly involved in some projects of CSAIL at MIT which also dealt with the "simple" question of making the (web of) data more accessible for users who aren't aware of SPARQL, SQL or OLAP cubes. For instance, Exhibit has become a widely adopted environment for faceted search within a given dataset. A bit more sophisticated is the nested faceted browser – and now there is Parallax, too.
In his screencast about this novel browsing interface, David stresses the advantages over Google or Wikipedia. Is this a fair competition? What is it about Parallax that makes it a choice interface and when?
If you want to learn a little more about Abraham Lincoln – go to Wikipedia!
If you want to know where you can find even more information about Abraham Lincoln – go to Google!
If you know a bit about Abraham Lincoln already, and you want to aggregate or compare some facts of his life to that of other presidents or if you want to visualise data on a time-line or on a map – learn how to use a tool like Parallax (and don't complain if it isn't as simple as Google anymore)!
In some respect, Parallax is the building block that has been missing in the web universe: (Professional) fact finding on the web could work like this in the close future (although Parallax needs some more servers and – indeed – more data in its database).
But what if Parallax became the graph-based UI on top of Freebase + LinkingOpenData?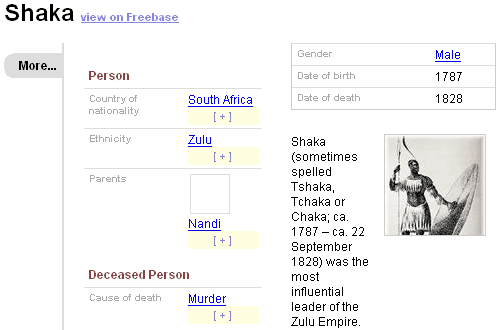 Refined search results for "Shaka" on Parallax