Winners of Triplification Challenge 2010
On Friday, September 3, 2010 the winners and honorary mentions of the 3rd Triplification Challenge have been awarded at the I-SEMANTICS conference in Graz. This year's challenge consisted of an Open Track and a special Open Governement Data Track.
In total we received 28 submissions from which 15 nominees have been selected by the organizing committee. In a second round an international reviewing team of scientific and industrial experts elected the 3 equal winners and 3 honorary mentions. The winners were each granted a prize money of 1000.- Euro which was sponsored by Wolters Kluwer Germany, Semantic Universe and Semantic Web Company.
In the Open Governement Data Track the awards went to:
Winner:
Self-Service Linked Government Data with dcat and Gridworks
Richard Cyganiak, Fadi Maali and Vassilios Peristeras
Honorary Mention:
Linking Open Government Data: What Journalists Wish They Had Known
Christoph Boehm, Felix Naumann, Markus Freitag, Stefan George, Norman Höfler, Martin Köppelmann, Claudia Lehmann, Andrina Mascher and Tobias Schmidt
Honorary Mention:
Geographical Linked Data: a Spanish Use Case
Alexander De Leon, Victor Saquicela, Luis M. Vilches-Blázquez, Boris Villazón-Terrazas, Freddy Priyatna, Oscar Corcho, Carlos Buil, Jose Mora and Jean Paul Calbimonte
In the Open Track the awards went to:
Winner:
Live Open Linked Sensor Database
Danh Le Phuoc, Josiane Xavier Parreira, Michael Hausenblas, Yuanbo Han, Manfred Hauswirth
Winner:
Twarql: Tapping Into the Wisdom of the Crowd
Pablo Mendes, Pavan Kapanipathi and Alexandre Passant
Honorary Mention:
BibBase Triplified – http://data.bibbase.org
Christian Fritz, Oktie Hassanzadeh, Yang Yang, Reynold Xin and Renée J. Miller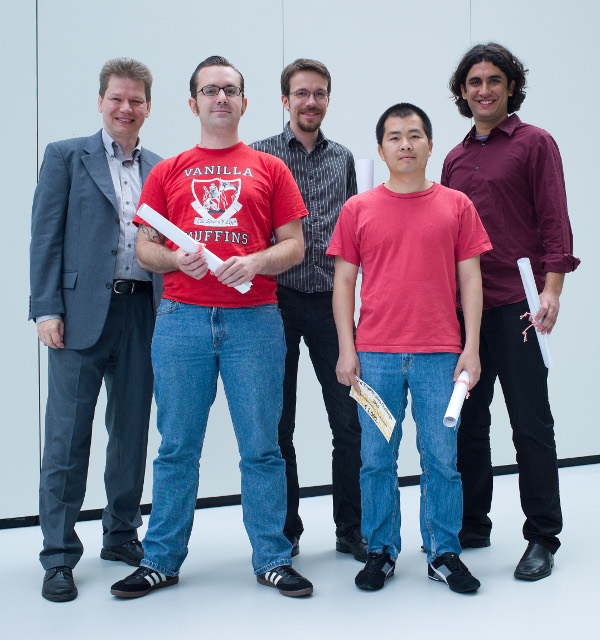 The  winners f.l.t.r. Christian Dirschl (Sponsor Wolters Kluwer), Alex Passant, Richard Cyganiak, Danh LePhuoc and Pablo N. Mendes
Cordial congratulations from the organizing team & look out for the 4th Triplification Challenge in 2011, which will again take place at the I-SEMANTICS conference, September 7 – 9, 2011 in Graz / Austria.