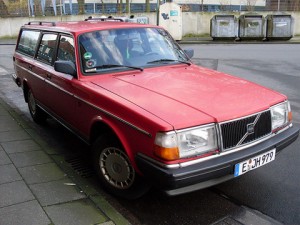 Imagine the following: A car full of Semantic Web Experts is on it's way back from Graz. They hand around an iPhone to record some first impressions about the just ended 6th International Conference on Semantic Systems, I-SEMANTICS. So, the car was a Volvo, occupied by Thomas Schandl, Helmut Nagy, Tassilo Pellegrini and Andreas Blumauer.
Andreas Blumauer: "I think this year's I-Semantics was a big step forward. I had the impression that a lot of industry representatives are looking again for serious solutions there, after they have had already "burned their fingers" with the first-generation semantics. The now presented 2nd generation is much more about running applications and less unproven concepts."

Tassilo Pellegini: "This is what I also noticed this year. People build now on a solid common knowledge on the topic and are much more aware of the possibilities of the existing technologies and methods. And as this conference also where visited by a quite international crowd, a very homogeneous discussion incorporating a lot of the international trends was possible. So the developed sight on the topic was quite clear. In this respect, the keynote of Peter A. Gloor was a notable and impressive look into the very next future. It seems that the powerful technique of Cool Farming will be on our agenda in the next years, when we talk about prognosis tools, sentiment analysis, aggregated expert's data, etc."

Andreas Blumauer: "In terms of a look into the very next trends, also the Keynote of Rafael Sidi was impressive to me, as he draw a real amazing picture how his company Elsevier is on the way to transform their whole business model into a new paradigm. And this gives a glue that LOD has now arrived in real industry environments."

Tom Schandl: "I think this real-live-aspect of the Semantic Web was one of the unspoken focal points of the conference. In this respect Richard Cyganiak had a brilliant talk about how corporate data integration can benefit from RDF-Solutions, because a RDF based data concept can be developed step-by-step in contradiction to a "conservative corporate data integration" which always goes with a general redesign of the whole data-structure of a company. Richard calls this "pay as you go" – and I think this is what the industry looks for."

Helmut Nagy: "This is also my impression, standing a lot on our booth. The industry looks for very concrete semantic solutions – and some of them are already there and ready to use. So – to carry some house advertising – our PoolParty demozone was very well recognised and commented. And this is not only because I served Tropical Banana Cocktail there."
So the talk went on, in the car, at the blogosphere in the Semantic Web Community.