LOD2 Kick Off Meeting in Leipzig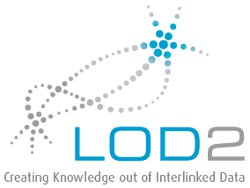 From September 6 – 8, 2010 we kicked off the LOD2 project in Leipzig / Germany. LOD2 is funded by the European Commission within the 7th Framework Programme (Grant Agreement No. 257943) consisting of 10 partners from 7 countries. Its main aim is to integrate and syndicate linked data with large-scale, existing applications and showcase the benefits in three application scenarios: 1) Media & Publishing, 2) Enterprise Data Management and 3) Open Government Data. The resulting tools, methods and data sets have the potential to change the Web as we know it today. (You can download the project flyer here.)
The first day was dedicated to the general introduction of the project partners which are Universität Leipzig (Germany), Centrum Wiskunde & Informatica (Netherlands), National University of Ireland in Galway (Ireland), Freie Universität Berlin (Germany), OpenLink Software (United Kingdom), Semantic Web Company (Austria), TenForce (Belgium), Exalead (France), Wolters Kluwer Deutschland (Germany) and Open Knowledge Foundation (United Kingdom). Below you see a picture of the kick off team.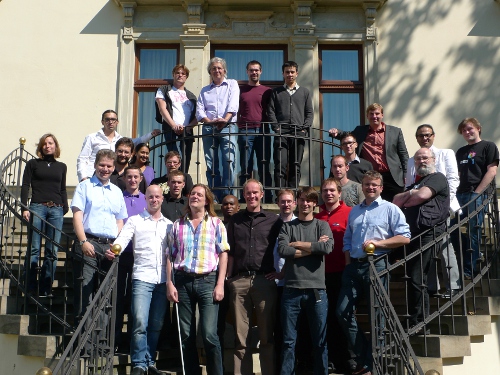 During the morning of the second day a first introduction to the technical components took place. The picture below shows an abstraction of the LOD2 high level architecture.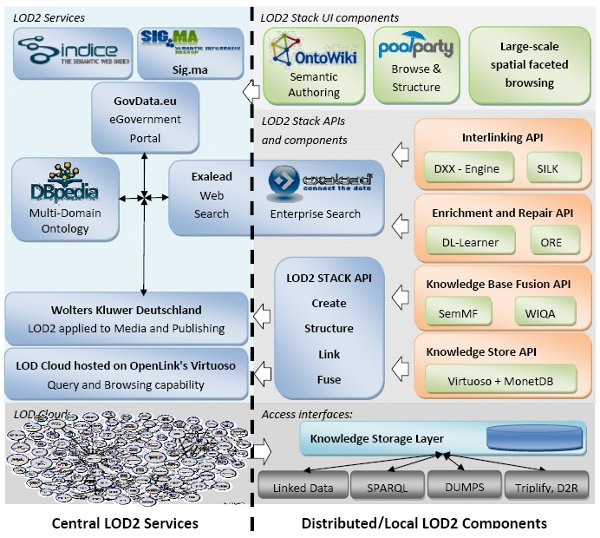 Orri Erling and Hugh Williams from OpenLink introduced Virtuoso, which will be used as one of the storage technologies in the LOD2 stack. The second knowledge store technology will be MonetDB introduced by Peter Boncz from CWI. Both systems will also be used as a kind of benchmark laboratory for hosting and querying linked data.
Christian Bizer from FU Berlin talked about Silk and D2R. In combination they will be used to discover relationship and similarities between entities within different linked data sources – generally called identity resolution.
Giovanni Tummarello from DERI introduced Sindice and Sig.ma under the aspect of how to update, validate and reuse data that is available on the web and support the production of professional, collaboratively governed linked data especially for enterprise use. Beside that an important aspect will be how to handle the high amounts of generated data. So according to Giovanni scaling the infrastructure and the use of appropriate hardware will be central in bringing the Sindice index into enterprise stacks i.e. as an approach for lightweight data consolidation purposes.
Norman Heino from AKSW University of Leipzig introduced OntoWiki and Semantic Pingback. Ontowiki will be used at the interface layer for producing, annotating, browsing and querying linked data and presenting it to the enduser in various GUIs. Semantic Pingback's aim is to interlink the Web 2.0 with the Semantic Web by backwards compatible RPCs (remote procedure calls). It detects new typed or untyped external links, manages the GET and POST commands and it takes care of server autodiscovery.
Andreas Blumauer from Semantic Web Company demonstrated PoolParty as a smart editor for metadata in enterprise stacks. Like Ontowiki PoolParty also addresses the interface level of LOD2 especially when it comes to generate, edit and link metadata to documents primarily based on SKOS. PoolParty deliberatelly uses Thesauri as a mapping layer to discover similarities of documents, generate tag recommendations for their annotation and publish used vocabularies as Linked Data.
In the afternoon we continued with individual breakout sessions to discuss work package interdependencies and start profiling the use cases and requirements eingineering in more detail.
The third day started with an introduction by Stefano Bertolo – the responsible scientific project officer from the EC side for the LOD2 project – who pointed out that the LOD2 project is an important one for the European Web of Data and the EC among others specially is interested in the Open Government Data use case of LOD2.
After this introduction talks of the 3 Use Cases were presented by A) Jonathan Gray (OKFN) about the Open Gov Data use case followd by B) Amar-Djalil MEZAOUR (Exalead) speaking about the Linked Business Data use case and C) Christian Dirschl (Wolters Kluwer) having a talk about the LOD in the publishing & media industry use case.
Central to the success of LOD2 will be a smart handling of all the integration issues which will come up in the course of the project. Here Tenforce, an integration specialist from Belgium, will have the lead. CEO Bastiaan Deblieck gave a detailed outlook on the methodologies  and he presented a nice and comprehensive overview how the integration issues will be approached from a SCRUM perspective.

After a presentation about LOD2 project dissemination, training and community building activities by Martin Kaltenböck (Semantic Web Company) there were serveral discussions going on until the successful kick off meeting was closed by project lead Sören Auer (Universität Leipzig) at 04.00pm of 08 September 2010.
Updated news information can be accessed on the LOD2 project website as well as on the LOD2project twitter stream (and on twitter using #lod2)…

Stay tuned!