Open Government Data around the World
My colleague Thomas Thurner has put some Open Government Data initiatives on a map to get an overview what is happening around the world in this area. If you have any additional initiatives to add, please feel free to contact Thomas (office @ semantic-web DOT at) to get access – he will support you in this!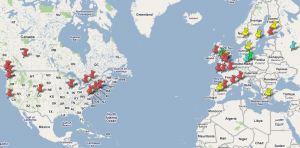 This is an important step to collect initiatives worldwide so we can follow our objective to build a network of OpenGov initiatives around the world in the course of building a focal point for the LOD topic – many thanks for your support!
(This initiative is part of the LOD2 project which was recently started in Leipzig.)