I-Semantics: The Review in a Car – 2011 Edition
Continuing the tradition of last year's review in a car, the Semantic Web Company's participants of the I-KNOW / I-SEMANTICS talked about their impressions of the conference while on their way back to Vienna.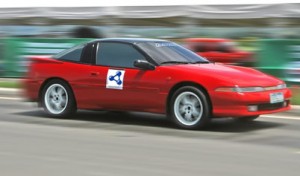 Thomas Schandl: An especially nice thing about this conference is that it's co-location attracts people from two separate communities: Knowledge Management and Semantic Web. This serves as a natural facilitator for looking beyond the boundaries of one's own domain and getting more than a glimpse of what's currently happening in related fields.
That being said one of the most interesting talks I attended was a talk from KM expert Prof. Martin Eppler and his take on "Sketching at Work", which introduced loads of sketching methods which can help to solve problems, inspire creativity and support communication.
From the Semantic Web side I enjoyed the innovative approach taken by Hasso Plattner Insitute's DBpedia powered quiz game Risq!. It is a Jeopardy-like Facebook game, that (besides being fun) sheds insights as to which facts are especially important to characterize a Linked Data resource. E.g. when the system wants you to guess a specific "female politician" would it help you more to know that she is part of the category yago:LivingPeople or would you rather get the hint that she is dbpedia:Chancellor_of_Germany?
By analyzing the logs of the played games, the researchers can find out which triples have more discriminative power than others.
Through the many personal encounters I also got a lot of input on which new features would be especially interesting for future versions of PoolParty and what we should concentrate on in the LOD interlinking project LASSO that Bernhard Schandl (Gnowsis / Refinder), Stefan Wunder (Neurovation) and me presented at the I-Praxis track.
Andreas Blumauer: Again, this year was absolutely worth coming to Graz also from a business perspective. For me it was the 10th time going to Graz. When I went to the second edition of I-KNOW in 2001 I remember that nearly nobody has ever heard of "semantics". When I-SEMANTICS came to Graz the first time, this was in 2007, it was still unclear for most visitors how semantic technologies could contribute to a more efficient enterprise knowledge management. Nowadays, 10 years later, there is another question most prominent:
Which kind of semantic technology is solving my problem?
Being most of the time at our exhibition booth I enjoyed talking to visitors who had very concrete plans & ideas about how to use linked data, text mining or knowledge models for their business. The time when we had to explain what the "semantic web" is all about is over.
Christian Dirschl´s (Wolters Kluwer) keynote on Friday was exactly reflecting this fact: It´s good to see how big players have started to integrate the idea of linked data into their processes already. The days when we had to explain the difference between RDF and XML seem to be over. Or at least almost.
Florian Kondert: It was a vibrant atmosphere for me, since I didn't make it to participate to just one track, but talking to interesting and interested persons at the booth without one break, instead.
From the participant's perspective the conference as a networking platform was a huge success – and it definitely didn't stop at dusk! It is worth pointing out the diverse needs and ideas on semantic use cases, that allow us to learn more with every discussion. The bottom line is that semantic solutions are badly needed for many organisations – and they start to realize, that there are no working alternatives at the moment.
On the other hand it is crucial to show up with real life examples, not just with prototypes that might work tentatively! As providers for semantic solutions we face decision makers on the highest level and they demand high level remedies – so, no time to take a break!
Tassilo Pellegrini: As the conference chair I really had an intense, but all in all very positive time at the conference. Interesting people, inspiring talks and a really good time at the socializing events (greetings to Leo Sauermann & Co. – I enjoyed the drinks!). For a general conference overview read my post from a few days ago.
But there is more to such a diverse conference as just talking about semantics. As some of you might know, beside my interest in Semantic Web, I have been involved in some policy consulting lately concerning the topic of net neutrality. At the conference I took the opportunity to talk to some telecommunications-savvy people and had some really great conversations (Harald … I really enjoyed our discussion!). But to my surprise I had to find out that – especially among the engineering guys – there seems to be very little awareness about the pressing social, cultural and economic consequences that an abandoning of net neutrality will have on the Internet as we know it today. For those readers who are into semantic web but not into the net neutrality discourse I want to reduce it to a very simple formula: without net neutrality you can say goodbye to linked open data. And this should really make us think and act!!
Related articles