Google I/O: Videos, Slides and a brief summary of the OpenSocial Talk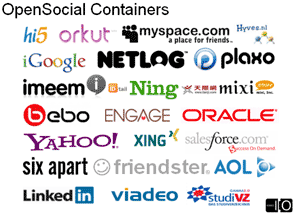 On May 28 & 29 2008, Google I/O, the developer gathering around Google's applications and APIs, took place in San Francisco. Most of the slides and videos of the session have now been posted on their website, and it's quite a stack of interesting thoughts, instructions and proposals to dig through, published in six different categories: AJAX & JavaScript, APIs & Tools, Maps & Geo, Mobile, Social and Tech Talk. I highly recommend to have a look at the menu yourself – for the moment, I am only going to highlight one talk about OpenSocial as a standard for the Social Web by Chris Schalk, Kevin Marks and Patrick Chanezon.
Patrick opened the talk, picking up on a definition of social objects as proposed by Jyri Engeström, founder of Jaiku (acquired by Google in October 2007). A social object is an object that is socialized, e.g. a photo on Flickr. These are the five questions that one needs to tackle, according to Jyri:
1. What is your object?
– For instance a photo on Flickr, a slide on slideshar.
2. What are your verbs?
– E.g a photo on Flickr is uploaded and tagged, on eBay, an object is sold and bought; these verbs must have a a prominent position in the design of the user-interface).
3. How can people share the objects?
– Each object must have a unique URL; Flickr was only successful once it introduced URLs for each photo.
4. What is the gift in the invitation?
– Patrick always spams messages such as "Please join platform XYZ and help me save time filling in my addressbook", because there is no gift in the invitation for the recipient.
5. Are you charging the publishers or the spectators?
– this means: What is your businessmodel?
Here is Jyri's original presentation that Patrick draws on.
Patrick then raised the question: How do we socialize objects online without having to create yet another social network? The OpenSocial Foundation, not surprisingly, is his answer to this challenge, whose claim is to "Keep the specification open." The image above shows which platforms have already joined the OpenSocial Foundation – German language social network StudiVZ is also part of the crowd.