LinkedData Planet in New York: A great community event for all things semantic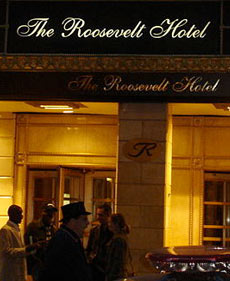 First of all: LinkedData Planet is a big success in terms of visitor numbers to begin with. The "Grand Ballroom" at Hotel Roosevelt, a lovely old hotel in Manhattan, was packed not only when Tim Berners-Lee gave his keynote this afternoon.
But not only the quantity of attendees, also the high quality of talks and discussions which are going on at this first conference on the "commercialization of the web of Linked Data" show that we are facing a fast growing phenomenon with a "great momentum" as Berners-Lee stated.
Kingsley Idehen from OpenLink Software started the first day of the conference with his keynote in which he tried to "demystify" the term Linked Data. He said that "Linked Data is the foundation of the semantic web, its connectivity is growing and the line between enterprise and individual level is blurring". He also stressed the similarities between ODBC (Open DataBase Connectivity) and Linked Data – which might be interesting for my next talk with an "old-fashioned" CTO.
Uche Ogbuji from Zepheira referred to DBpedia as "the star" of the Linked Data Cloud and gave an interesting talk about the possibilities of Linking Enterprise Data.
Tim Berners-Lee listed in his keynote the areas in which the LOD-community is now facing the biggest challenges:
standards, for instance levels of inference, link following on linked data clients and servers
federated query; query service descriptions
ultimate human interface to all the data there are
balancing diversity & harmony in ontology development
and, of course, continuing the great momentum
Tim Berners-Lee also emphasised that hiding information in some cases like product information is "just crazy". One way to expand the LOD cloud could be "lobbying" for data sources (with governments, providers of commercial information, etc).
Between the talks people spent their time in the exhibition area. Dean Allemang from TopQuadrant gave a demo of TopBraid Composer. I talked to Tom Tague from OpenCalais about the new features the next releases will have and how to use their service behind the firewall and Mike Bergman from Zitgist showed me the power of UMBEL web services.
All in all – LinkedData Planet is a great community event, well organised and well populated by people who want to use the semantic web in different commercial settings.
And to those who weren't able to attend: I recommend to take a look at the Linked Data Shopping List, a page within the Linked Data Initiative's wiki where you can add the data that you want to see published as Linked Data.
Read also pt. 2 of our conference report: The social hub @ LinkedData Planet 2008
[Image: official-ly cool]