Which kind of controlled vocabularies matter?
Looking at intermediate results of the Controlled Vocabularies Survey an interesting finding concerns the question which types of knowledge models are currently best fit for actual use in applications.
So far 143 people whose organization already make use of controlled vocabularies answered the question "Which kind of controlled vocabulary do you use or plan to use in your applications?".
The results so far show that lightweight models like taxonomies and thesauri are somewhat preferred over ontologies: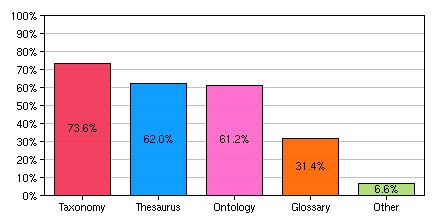 Taxonomies are the favorite, as 73.6% of participants use or plan to use them, followed by thesauri (62%) and ontologies (61.2%), while simple glossaries lag considerably behind with a usage of 31.4%.
This survey will close in about a week, so please take this chance to make your opinions on this topic count! You can find the questions here, it will take 5-10 minutes to answer them.
All participants will gain access to a report with the results within the following month. The most interesting results will be made public on this blog.