The condemned live longer
Two days ago, the Bloomberg financial newswire decided to update its 17-page Steve Jobs obituary — and inadvertently published it in the process. Embarrassing faux pas or top example of bad taste and bad style? Anyway, things like this keep happening in the media – just remember Friedrich Gulda's fake-death some years ago – intentionally or not. No wonder that you can find a List of premature obituaries on Wikipedia. And no wonder that Steve Jobs is already on the list.
Such fake obituaries are also being produced in context with the Semantic Web. Is the Semantic Web (Web 3.0) Dead On Arrival? asked for instance Dave Naffziger on his Blog in 2007. And a little later a Yahoo researcher declared the Semantic Web dead, too.
To my mind – although I'm a non-techie but "only" an observing journalist – declaring people or things dead is the best possible way to make them live for a long time – by providing them with lots of more meaning, prominence and impact. You may even say it's one of the oldest principles in PR. So the traditional proclamation The King is dead. Long live the King. (French: Le Roi est mort, vive le Roi!) has more than a historical component.
So keep developing,
Marion
P.S. Only Austrians may publish this;-)A humurous obituary of Austria, published in 1918 in Krakow, Poland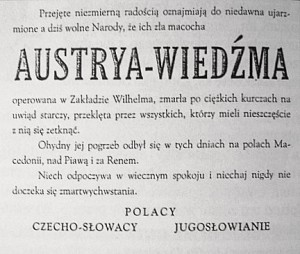 Image by Wiki Commons, where a translation can be found, too