SWC-Interview is This Week's Best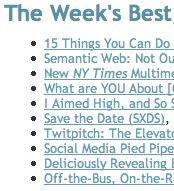 Last week, Marion Fugléwicz-Bren's interview was published simultaneously on our website and on the PR Conversation blog. This week, the interview was featured in the This Week's Best column of Teaching PR, a blog on teaching public relations at the Grady College of Journalism and Mass Communication, University of Georgia. Thank you very much, Karen Miller Russel! Even though there is probably no particular order to that list, I still appreciate that the interview came in second (oh, delusions of grandeur).
This is a very good message for the Semantic Web Community. As Pirchner said himself, "PR industry mainstream has never been at the forefront of developments" and most of us might have experienced that it takes even longer for new ideas and technologies to appear on the curricula of educational institutions. Karen Miller Russel teaches Public Relations core courses such as Administration, Communication, and Campaigns – and what better sign could there be for the coming breakthrough of semantic technologies than their appearance on the radar of educators responsible for the foundations of a trade?
Other blogs and bloggers that mentioned the interview were:
Comunicação Empresarial
Heather Yaxley – Greenbanana views of public relations and more