Linked Data pave the way to a meaningful web
You will probably know the name of Tom Heath: He won last year's Semantic Web Challenge with his web application revyu.com, which "lets you review and rate absolutely anything you can name", and has in the meantime joined Talis. This week, Andreas Blumauer did an email interview with Tom Heath – here is just a small excerpt, a bit of Tom's response to the question whether Linked Data is just another Semantic Web alias:
Far from being a cynical marketing exercise, use of terms such as 'Linked Data' and 'Web of Data' simply represent a clarification of the intentions behind the Semantic Web vision. The label 'Semantic Web' has itself been a victim of semantics, which has not aided adoption of the underlying ideas.

How the Semantic Web develops over the next ten years will remain to be seen, but in the meantime it's essential that we use terms that speak to people in clear terms, and convey more of the key features that can lead to a more meaningful Web. 'Web of Data' does just that, and 'Linked Data' is the means by which we are reaching that goal.
You can read the whole interview here.
The screen below – a visualization of the currently available Linked Open data – is taken from a talk Tom Heath gave in February 2008 in Amsterdam, at the occasion of the CATCH Programme and E-Culture Project Meeting on Metadata Interoperability. This snap shot of the LOD cloud documents its size in May 2007: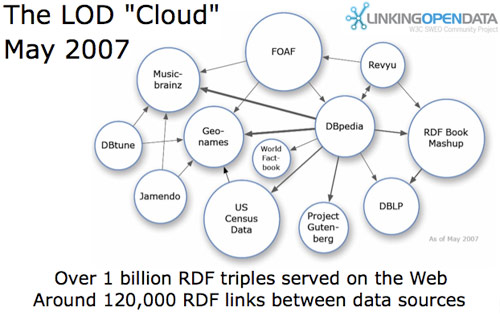 Now compare this to its size one year later (snap shot provided by Richard Cyganiak on May 8, 2008):