Science 2.0 – Social Networks for Scientists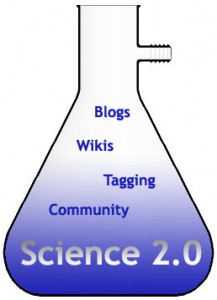 The benefits of the Web 2.0 and Social Web are finally gaining wider recognition within the scientific and the (slowlier adjusting) academic community, with several online platforms evolving that seek to address the needs of researchers and (probably) academics.
There is ResearchGATE which calls itself a "scientific network" and who, among other things, offer a file sharing service that supports versioning, called ReSTORY.
Science mag Nature has its own online community, Nature Network, which offers profile pages and groups and a blog network. There is a little admission procedure anyone has to go through who wants to blog on Nature Network: "Send us a brief description of who you are and the topics you want to write about in your blog. We want to make sure that your proposed blog is a good fit for Nature Network."
In Germany, there are two projects currently in beta, seeking to develop a social network for scientists: Scholarz.net, which evolved out of a research project dedicated to doing research with the web 2.0 at Julius-Maximilians-Universität Würzburg, and SciLife, which is developed by several PhD students in collaboration with Max Planck Institute of Molecular Cell Biology and Genetics in Dresden and members of the AK Spatz Group in Heidelberg, both research institutions.
Instead of setting up yet another social network, one can of course use the communities that exist. Today, for instance, I received an invitation from OpenCalais to check out their Facebook profile.
In addition to those communities, there are tagging and bookmarking services like Connotea, CiteULike and Bibsonomy who seek to make work and research easier for researchers.
While we are at it: François Bry and I have written an article about Web 2.0 and the Scientific Community which is due to appear in August in IM – Information Management & Consulting. Title of the publication (German only): Kreidetafel und Lounge 2.0 – Der Einzug sozialer Medien in Technik und Wissenschaft.
Image CC, based on WikiCommons, Buchner Flask.