Report on developments at the European Semantic Technology Market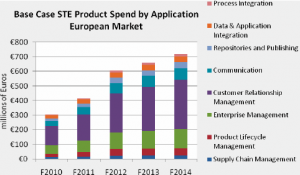 The present state of development, future trends and expected market scenarios for Semantic Technologies are shown in the just published "Demand driven Mapping Report". The report is part of the EU-funded project Value It, which is about bringing together the various stakeholders within the sector: Industry, Research and Government. VALUE-IT preliminary findings show that the STE potential market in Europe will size up to €1.44B for 2014. Scanning furthermore the executive summary of the report, some findings attract attention:
The survey results also show considerable variation by sector, both of policy and technology implementation. With respect to technologies, ICT companies are also the most willing to consider semantic approaches. The ICT sector has an unusually high interest in all ST components, with 20% or more being willing to consider all of them, and over half of IT respondents looking at Web 2.0 (social computing). […]  The use of tagging technologies – which overall is the least mature approach in the survey – is most advanced in Life Sciences. The Life Sciences, Media & Entertainment, and ICT sectors all have a reasonably strong interest in Natural Language Processing (roughly 25% on average). Ontologies and RDF/OWL are the technologies least often considered, though the interest in these Semantic Technologies is not insignificant. Taxonomies are slightly more popular, perhaps indicating that companies are taking the first step to prepare for a more semantic approach to IT solutions. The ICT, Energy & Utilities, and Media & Entertainment sectors all have a reasonably strong interest in using taxonomies.
The 190 pages report gives an actual overview of the status quo on European Semantic Technology Market and is now available for download: Final demand driven mapping Report