Mapping the Semantic Web of Life Science and Health Care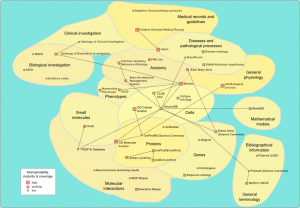 This colorful map shows RDF/OWL resources for life sciences and health care. It is an attempt at finding a geographical metaphor for the complex interrelationships of entities on the Semantic Web. The map captures resources that are available on the web for importing or querying and that have received a minimum of attention by the Semantic Web Health Care and Life Science Interest Group. Connections are drawn only where different RDF/OWL resources actually share URIs — as you can see, there exist several RDF/OWL datasets in the same knowledge domain that are still unconnected. I drew this map in July 2007 for a poster I presented at the ISMB2007 conference. It does not claim to be complete.
At the moment I am (slowly) working on linking some of the datasets represented on this map to some resources of the Linked Open Data cloud. The first large segments of the Giant Global Graph (GGG) are starting to form!