KIWI Project Partners, Pt.4: Sun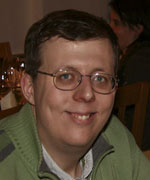 As soon as KIWI enters the use cases stage, collaboration with business partners is going to gain particular importance. One of these partners is Sun Microsystems – who hardly need an introduction. Yet an interesting new fact that I learned about Sun on Thursday was that they are not only a main contributor to open source software development, but that they are also opensourcing hardware: OpenSPARC is the world's first free 64-bit micro-processor – the source code for the OpenSPARC T2 chip was released unter GNU GPL and can be downloaded here. Sun is also known for making an authentic web2.0 commitment, building communities within and beyond corporate boundaries: According to Josef Holy (pic on the right), Sun interaction and social network designer, they have literally hundreds of internal wikis, plus a universe of public wikis, public forums and blogs – Jonathan Schwartz is blogging, too.
So Sun has extensive experience with developing community infrastructures, for instance also in association with NetBeans, their integrated development environment, which is used by about 200 Sun developers, thousands of external contributors and hundreds of thousands of active users. The development of NetBeans might also serve as a testbed for KIWI, as the usecase conducted in collaboration with Sun is going to focus on software knowledge management; Josef suggested that KIWI should serve as a structured hub in an unstructured environment. When talking about the ideal user-centred design, he presented an empty slide, pointing out that no preconceived ideas must stand in the way, but that it must reflect real world problems.
Another interesting proposal that might influce KIWI is Sun's Community Equity Specification – Peter Reiser, Principal Engineer, CTO Office, and Chief Architect for CE2.0 blogged about this recently after the patents were finally filed:
The objective is to build a dynamic Social Value system by calculating the Contribution, Participation, Skills, and Reputation equity a person can gain by actively engaging in online communities. The Equity values are captured through activities that the Community members are participating in.
Also involved in the Sun usecase is the Semantic Web Company (i.e. my employer), and from SWC in particular Andreas Blumauer, Matthias Samwald and Tassilo Pellegrini. Together and with the input of the entire KIWI team they are going to do their best to explore the opportunities of combining bottom-up maintenance (i.e. tagging and folksonomy) with top-down maintenance (i.e. reasoning and ontologies). The Sun team includes Peter Reiser, Josef Holy, Henry Story (semantic web evangelist – I already blogged about him and Josef yesterday) and Inka Havlova who is backing the team with administrative power.