KIWI Project Partners, Pt.3: Aalborg University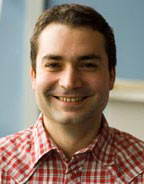 The third partner contributing to the second KIWI work package, Enabling Technologies, is a team from Aalborg University (AAU) led by Peter Dolog, Assistant Professor in the Information Systems Unit at the Dept. of Computer Science. "I found the KIWI project interesting especially because of its high relevance for the industry," says Peter. "I am looking forward to learn about further advances in reasoning in the area of practical social knowledge management applications as well as about semi-automatic knowledge extraction which is very important for personalization research." Peter has worked on numerous projects related to knowledge, learning and creativity management, for instance idSpace – Tooling and Training for Collaborative, Distributed Product Innovation or the ELENA – Creating a Smart Space for Learning project, an elearning project that integrated semantic technology into a tool for human resource management. Peter is joined by Peter Axel Nielsen, Andreas Munk-Madsen and Karsten Jahn.
Peter Axel's research focus is on improving software processes and professionalizing information systems development as well as on object-oriented modeling and methodology (and more). Andreas has work experience as an IT-consultant and system developer, has published about using storytelling in the definition of project plans and on the classifciation of IS project problems. Karsten is a doctoral student hailing from Düsseldorf, who has a strong background in promoting the use of wikis in the industry and who is doing research on the personalization and acceptance of wikis.
Their task within the enabling technologies section of KIWI is going to be on the definition of personalisation methods, i.e.
to develop appropriate user and group models for representing propeties and preferences of groups
to refine user and group models based on automatic tracking of individual user behaviour
to develop rules to dynamically adapt the presentation of content and user interfaces
Peter has also offered to involve the AAU usability experts in the evaluation of the KIWI usecases. Being an intelligent interface addict, I can't wait for the outcome of their research!