Internet versus Print – who is the audience?
Media. One of the sexiest businesses there is. Such is also true regarding the definitions of media within the last – let´s say – ten years.
Let´s catch a few glimpses. Explore the latest Web 2.0 developments at Web 2.0 Expo in San Francisco end of April. Web 2.0 has come to a close and now the work begins.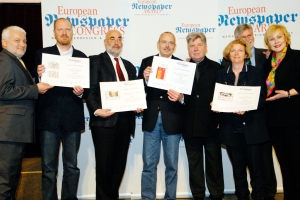 Change of scenery. Vienna has been a town of congresses ever since. A few days ago journalists and media experts all over Europe discussed the Online-versus-Print-topic at a European Newspaper Congress in the Wiener Rathaus (Photo: pte). Naturally, there are numerous interpretations and perspectives – dependent on the individual position, viewpoint and employment – but also on objectives: Who is the target group? Amazingly enough, I can notice all over the place – and across all businesses – that this primary topic within marketing is often being neglected. Lots of managers lose sight of this in their daily business.
In media terms: Who is going to read, watch or listen to my content? That´s THE question for media people. And being a journalist myself, I have been keeping an eye on this matter for many years. But whether something is sexy or not – who is going to judge? Even media experts might differ in this question.

I remember the print-versus-online-matter having been discussed enthusiastically at all kinds of media conferences since the early 90s. What has changed? Large media-companies are discovering Web 2.0 and spend five billions of dollars for social networking.
Während nordamerikanische Unternehmen rund 60 Prozent der Investitionen in Web-2.0-Projekte tätigen werden, hinken europäische Konzerne weiterhin hinterher. Als entwicklungsförderlich gelten verschiedene Bestrebungen der Konzerne, wie die User jederzeit und effizient mit wichtigen Daten zu versorgen sowie die einfache Vernetzung von Kollegen untereinander und mit Geschäftspartnern.
Translation in short: European companies: Remain competitive! Have a look at www.semantic-web.at once in a while and keep informed about the future of data.
Is this journalism? Is this media? Is this blogging? Or simply manipulation? (Or is it just the right way to survive?) Well – that´s another kind of story. Anyway – isn´t there a new phenomenon called "user generated content"? I´m sure, my colleague Jana Herwig can tell you lots of stories about this… Stay tuned.
Marion 😉
By the way – there is an interesting media-conference in Graz in September