♪♫♪No Milk Today♫♪♪ – New Ways of Finding Music for Vegans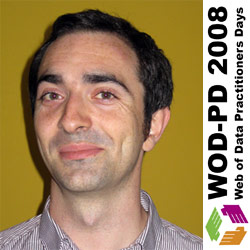 Shortly before Yves Raimond, a researcher at Queen Mary University of London with a focus on metadata for musical resources, won the 2nd prize in the Triplification Challenge, he talked to us about new ways of finding music using the infrastructure of the web of data. If you ever catch anyone again complaining about the lack of persuasive showcases of the Semantic Web, please direct them to this interview with Yves! Quote:
I think there is something quite frustrating about music recommender systems at the moment though. First, they do not explain how a particular recommendation was derived. I would really like them to tell me "I recommended this track because the harmonies are similar to other tracks you liked according to such and such criteria". I think I would place more trust in a recommender system that actually explains recommendations, like a friend would do.

Another frustration is that we now have a really huge music-related web of data, created within the scope of the Linking Open Data project, which is not used at all by current recommender systems.

We started some work with Alexandre Passant, driven by these two frustrations. Using all these interlinked data for recommendation purposes allows us to break free from the traditional 'information barriers', and use all sorts of data as a basis for a musical recommendation.

For example, using the datasets currently available and interlinked on the web, you can already provide recommendations such as "You're interested in intentional living and the Beastie Boys? Did you know that B.B. King is a vegetarian, as is Adam Yauch, who is a member of the Beastie Boys?"
Last.fm, are you listening? The full interview can be found here.
Yves is also going to be a keynote speaker at the Web of Data Practitioners Days, Oct 22-23, here in Vienna, where you'll have the chance to discuss the issue of LOD-based music recommendation with him in greater detail.
Other highlights of the program: Web of Data 101 (interested SemWeb beginners: please attend!), an Open Hacking Session, and keynotes from Danny Ayers and Keith Alexander, Richard Cyganiak, Ansgar Scherp, Alan Dix, Leo Sauerman, Sören Auer and Tassilo Pellegrini. URL of the website is webofdata.info
Other news of the day: Physicists can't dance, but hasthelargehadroncolliderdestroyedtheworldyet.com?
Related articles by Zemanta