BBC Music relaunch: Linked Data goes Business?
Since SWC is involved in a couple of semantic web projects in the media industry, I was watching for the BBC Music relaunch. Now the new platform is online – and from an enduser's perspective the new system offers comfortable ways to navigate through the world of music: Bands, their members, biographies and outgoing links like to Wikipedia or MySpace are retrieved from MusicBrainz and mashed up with BBC blogs, playlists or reviews.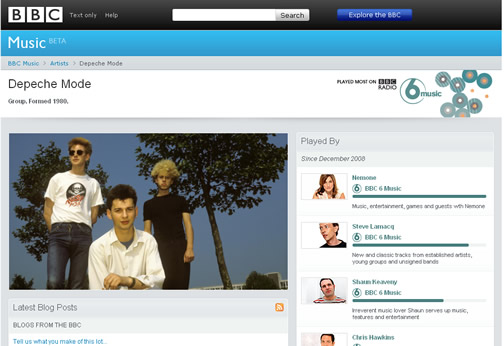 Matthew Shorter, interactive editor for music at the BBC, told silicon.com:
We're kind of on a journey of moving from what's effectively a magazine/print publication-based metaphor around web publishing…to a world where we recognise that that's not the way that people use the web.
No doubt: Linked Data is a great deal for the end-users but what´s in for the providers, in this case for BBC?
From a media company's perspective Shorter has mentioned a handful of interesting arguments why linked data could be useful:
reusing data from MusicBrainz and Wikipedia also provides better value for the licence payer as the BBC isn't wasting resources reproducing data already in the public domain
from an SEO point of view, once we start generating a lot of meaningful links among our pages, then we're going to improve the find-ability of our content via web search
by having as open a platform as we can, then our hope at least is that people will pick up that content and do things with it and we'll benefit from incoming links as a result
This could be summarised as follows (by adding a fourth item):
re-use existing data
increase find-ability
extend your eco-system
understand users' interests
By saying that linked data can help providers to understand their users in a more profound way which is based on the more granular way how information is offered in the linked data world (paradigm shift: page versus linked data) I´d like to ask a short, value-free question: Which side of the internet will drive the business in the future – the visible web or the deep web? Was linked data designed only for the visible web?
Related articles by Zemanta