Yes, SWC is a KiWi Project Partner, too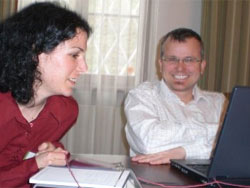 Someone wondered why I was blogging so intensely about the KiWi Project Kick-off: Not only because it is an intriguing project but also, yes indeed, because the Semantic Web Company itself is part of the KiWi Project, and my blogging was not simply the result of some arbitrary interest:-) The main two work packages to which SWC is contributing are Application building (WP6), i.e. the use case scenario which is going to be elaborated in collaboration with Sun Microsystems, and Demonstration (WP9), in particular the Technology Road Show where the project outcomes are going to be presented and demonstrated on-site to potentially interested organisations. I am also going to be involved in Demonstration, but first and foremost in Dissemination (WP8), which is the third biggest work package, and which aims at spreading the word in the scientific community.
But who is the Semantic Web Company (SWC) anyway and what to they do? SWC evolved out of the The Semantic Web School (SWS) whose main aim was to educate people about the benefits of semantic technologies, make them acquainted with the key concepts and technologies and thus put them in a position where they are able to assess the scope, but also the requirements and challenges of turning to semantic technologies. This initial focus was expanded last year and The Semantic Web Company came into existence, which of course built on the existing expertise and experience of SWS initiators Andreas Blumauer, Tassilo Pellegrini and their extended professional network, including lecturers and partners. These further areas of operation now include Consulting, Media, Events and Projects; an additional sixth area, Solutions, is currently being developed, reflecting the interests and expertise of Matthias Samwald, who joined SWC in January 2008.

The probably most prominent SWC event is the Triple-I conference which is organized in collaboration with Know-Center Graz. Triple-I is a joint venture of three conferences, I-Know, I-Media and I-Semantics, thus reflecting the increasing importance and convergence of knowledge management, new media technologies and semantic systems. KiWi is SWC's first EU-Project; projects conducted in the past include sem'base and SemNetMan, both funded by the Austrian Research Promotion Agency. The aim of sem'base was to develop a knowledge base that surveys the availability of semantic technologies and services in Austria – the results were made available as a wiki. SemNetMan – or: Semantic Network Management – sought to marry Social Network Analysis (SNA) with semantic technologies, in order to improve collaboration, in particular through augmenting the team-building phase. So now you know why we are writing about KiWi – it's definitely among the most interesting projects (if not THE most interesting – no offense meant to the other projects of course) SWC has been part of yet. I think one can see our excitement in the picture above, don't you think?