Wolters Kluwer Deutschland is publishing 2 legal thesauri as Linked Open Data
Wolters Kluwer Deutschland GmbH (WKD) publishes two legal thesauri as Linked Open Data for free re-use by public administrations, industry and the Open Data community

(Munich, 12.07.2012, WKD) From today on, two thesauri (controlled vocabularies) covering juridical/legal topics are provided for free re-use as Linked Open Data: One thesaurus is covering topics around labor law in German language, while the other one describes German and European courts. Both vocabularies can be accessed at: vocabulary.wolterskluwer.de/.
Labor law thesaurus covers all main areas of labor law, like the roles of employee and employer; legal aspects around labor contracts and dismissal; also co-determination and industrial action. Therefore, this thesaurus is interesting and relevant for all parties, who are dealing with labor law – professionals like specialized lawyers as well as for employees looking for definitions of legal terms. Linking to thematically similar thesauri (Linked Open Data paradigm) has already taken place and is therefore available as well.
Courts thesaurus is structuring German and European courts in a hierarchical fashion and includes e.g. address information. This thesaurus is not only dedicated to parties interested in legal matters, but also to developers developing geo data applications. Information concerning courts and their roles and responsibilities can become an interesting aspect of many applications in the future.
Publication of these data sets as Open Data is motivated by many reasons. In particular two major directions should be mentioned here: first is to help our customers with their information overload and the other one is to support activities in the OGD (Open Government Data) community.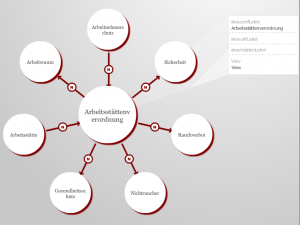 The creation of legal vocabularies is far from being a trivial thing and there are hardly any resources available in German language. By making these thesauri publicly available, we want to support especially administrations to classify and structure their internal data, in order to easily connect this data to relevant WKD legal resources afterwards (Interoperability of data). The Community on the other hand is very active in some domains, but unfortunately very reluctant when it comes to legal topics. Our aim here is to give initial support in order to create awareness, that also with this data it is possible to create highly interesting and relevant applications. In the end, all interested parties have to work together in a collaborative fashion, in order to bring transparency to the diversity and sheer amount of legal information – this is not possible within insular silos of applications and isolated approaches.
With this effort, Wolters Kluwer Deutschland GmbH is becoming part of the global Open Data movement, which is also heavily promoted by the European Commission, in order to strengthen Europe as an industrial location.
License models used here (like Creative Commons, CC-BY 3.0 for the contents) are as open as possible, in order to have available a real basis for further development in a collaborative fashion.
This commitment also implies next steps: both thesauri will be communicated to different target groups and the resulting discussions will hopefully generate many new requirements and concrete models for collaboration.
Facts and Figures
Licenses of WKD thesauri

Data is licensed using 'Creative Commons Namensnennung 3.0 Deutschland (CC BY 3.0)' License.
Data model is licensed using 'ODBL' License.
Links to external sources are licensed using a 'CC0 1.0 Universal (CC0 1.0) Public Domain Dedication' License.

Published as Linked Open Data (LOD)

WKD Thesauri are linked with

Programming interfaces as API / SPAQRL endpoints available at:

Used software tool

PoolParty Thesaurus Management Suite (www.poolparty.biz)

Both thesauri are described in ADMS format

coming from the European Commission, in order to be easily re-used in e-government services: http://joinup.ec.europa.eu/asset/adms/description

This project was implemented in a partnership between

Wolters Kluwer Deutschland GmbH (http://www.wolterskluwer.de), Semantic Web Company Wien (http://www.semantic-web.at) and the FP7 Project LOD2 (http://lod2.eu)
for more information you may contact
Christian Dirschl
Wolters Kluwer Deutschland GmbH (WKD)
Freisinger Strasse 3
D-85716 Unterschleißheim
cdirschl@wolterskluwer.de