What is Driving User-Generated Content?
Whether you are using Google Earth, NASA World Wind or MS Virtual Earth: I think we have all had our few mesmerized moments when first playing with one of these virtual representations of our beautiful planet Earth. The easter eggs are the best part, of course, at least for the majority of users who use them, but who do not actually create any mashups themselves. Arno Scharl, Head of the Department of New Media Technology at MODUL University Vienna, even thinks that these virtual globes "are among the main drivers of mash-ups and user-generated content" (on to Andreas Blumauer's interview with Arno Scharl). This makes sense – even though I myself might not be contributing to geospatial mashups, it's the long tail that eventually makes the difference.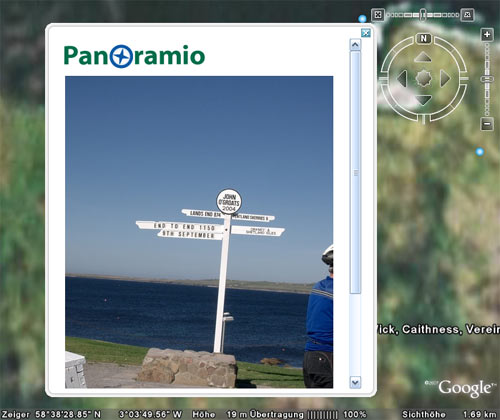 What was your latest geospatial mashup experience? To me it was finally taking a look at John O'Groats 'myself', courtesy of a few snapshots that users had contributed to Google Earth, after having read about this northernmost settlement of mainland Great Britain in Bill Bryson's hilarious travelogue Notes from a Small Island (a highly recommended read for your next trip to the U.K).
Another project of Prof Scharl's that he talks about in the interview is the US Election 2008 Web Monitor, which reflects attention and sentiment towards the US presidential candidates. They're currently working on a way to improve the system's ability to detect humour and sarcasm – sounds difficult enough. It's also good to see that scientists like Scharl are embracing OpenCalais and seeking to collaborate with the open source community – read more about it in the interview.