Unlimited Queries with Yahoo! Search BOSS
While Microsoft got all the attention for its agreemant to purchase Powerset, Yahoo! launched its Search BOSS program. BOSS stands for Build your Own Search Service, and it allows owners of search engines to integrate and use Yahoo! search content to accelerate their searches. This is of interest in particular to alternative, niche market search engines and these are indeed in the focus of BOSS: "Niche search engines often aren't very good because they have access to a very limited index of content," said Senior Director of the Open Search Platform, Bill Michels, in response to ReadWriteWeb, "It's expensive to index the whole web." Semantic search engine Hakia is already using Yahoo!'s index, Cluuz also appears on their list of sample mashups.
Here is an overview of BOSS' service portfolio in comparison to the Yahoo! Developer Network.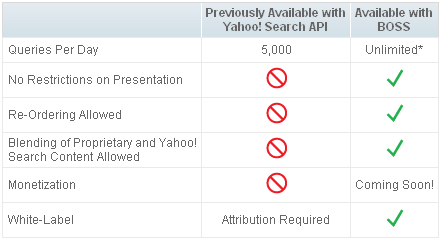 What's further interesting about their business model is the revenue sharing proposal:
In the near future, we will launch a monetization platform enabling Yahoo! and partners to jointly participate in the economics of BOSS-powered search products. Either Yahoo! sponsored search integration, with certain implementation and exclusivity requirements, or potentially a payment model, will be required above a specified query threshold.
Check out Yahoo! Search Boss!
Related articles by Zemanta