UK Government throws open public data in £20,000 mashup competition
The UK government's new Power of Information Taskforce has started its "Show Us a Better Way" competition yesterday, in which it asks people to submit their ideas for using and publishing the vast amount of (non-personal) information that is held in data repositories such as the Neighbourhood Statistics, the National Health Service (NHS), the Ordnance Survey and MANY MANY more. In other words: They are looking for mashups. Here is the call:
The UK Government wants to hear your ideas for new products that could improve the way public information is communicated. The Power of Information Taskforce is running a competition on the Government's behalf, and we have a £20,000 prize fund to develop the best ideas to the next level. You can see the type of thing we are are looking for here.

To show they are serious, the Government is making available gigabytes of new or previously invisible public information especially for people to use in this competition. Rest assured, this competition does not include personal information about people.

We're confident that you'll have more and better ideas than we ever will. You don't have to have any technical knowledge, nor any money, just a good idea, and 5 minutes spare to enter the competition.
Some examples which they cite as a possible point of reference are FixMyStreet, where people can "report, view, or discuss local problems like graffiti, fly tipping, broken paving slabs, or street lighting", Crime Mapping, i.e. interactive maps where places are shown where crimes have been committed or Farmsubsidy.org, a site which compiles "obscure information about subsidies under the Common Agricultural Policy and puts it in one place."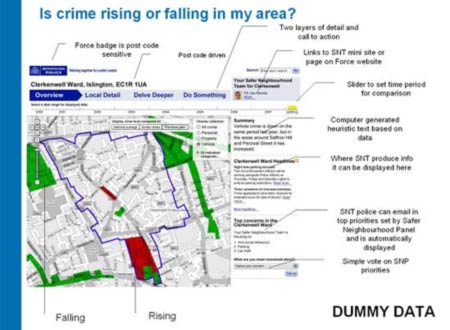 An interesting read in this context is The Power of Information Report – An independent review by Ed Mayo and Tom Steinberg.