Thoughts on KOS (Part 3): Trends in knowledge organization
The accelerating pace of change in the economic, legal and social environment combined with tendencies towards increased decentralization of organizational structures have had a profound impact on the way we organize and utilize and organize knowledge. The internet as we know it today and especially the World Wide Web as the multimodal interface for the presentation and consumption of multimedia information are the most prominent examples of these developments. To illustrate the impact of new communication technologies on information practices Saumure & Shiri (2008) conducted a survey on knowledge organization trends in the Library and Information Sciences before and after the emergence of the World Wide Web. Table 1 shows their results.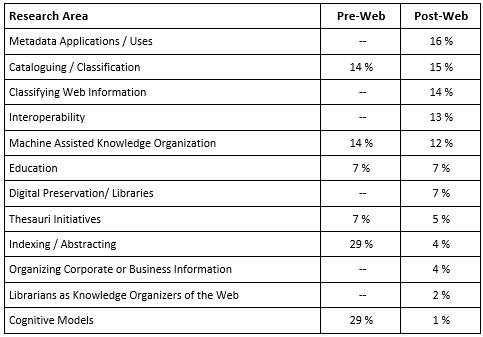 The survey illustrates three major trends: 1) the spectrum of research areas has broadened significantly from originally complex and expert-driven methodologies and systems to more light-weight, application-oriented approaches; 2) while certain research areas have kept their status over the years (i.e. Cataloguing & Classification or Machine Assisted Knowledge Organization), new areas of research have gained importance (i.e. Metadata Applications & Uses, Classifying Web Information, Interoperability Issues) while formerly prevalent topics like Cognitive Models or Indexing have declined in importance or dissolved into other areas; and 3) the quantity of papers that are explicitly and implicitly dealing with metadata issues have significantly increased.
These insights coincide with a survey conducted by The Economist (2010) that comes to the conclusion that metadata has become a key enabler in the creation of controllable and exploitable information ecosystems under highly networked circumstances. Metadata provide information about data, objects and concepts. This information can be descriptive, structural or administrative. Metadata adds value to data sets by providing structure (i.e. schemas) and increasing the expressivity (i.e. controlled vocabularies) of a dataset.
According to Weibel & Lagoze (1997, p. 177):
"[the] association of standardized descriptive metadata with networked objects has the potential for substantially improving resource discovery capabilities by enabling field-based (e.g., author, title) searches, permitting indexing of non-textual objects, and allowing access to the surrogate content that is distinct from access to the content of the resource itself."
These trends influence the functional requirements of the next generation's Knowledge Organization Systems (KOSs) as a support infrastructure for knowledge sharing and knowledge creation under conditions of distributed intelligence and competence.
Go to previous posts in this series:
Thoughts on KOS (Part1): Getting to grips with "semantic" interoperability or
Thoughts on KOS (Part 2): Classifying Knowledge Organisation Systems
References
Saumure, Kristie; Shiri, Ali (2008). Knowledge organization trends in library and information studies: a preliminary comparison of pre- and post-web eras. In: Journal of Information Science, 34/5, 2008, pp. 651–666
The Economist (2010). Data, data everywhere. A special report on managing information. http://www.emc.com/collateral/analyst-reports/ar-the-economist-data-data-everywhere.pdf, accessed 2013-03-10
Weibel, S. L., & Lagoze, C. (1997). An element set to support resource discovery. In: International Journal on Digital Libraries, 1/2, pp. 176-187