The social hub @ LinkedData Planet 2008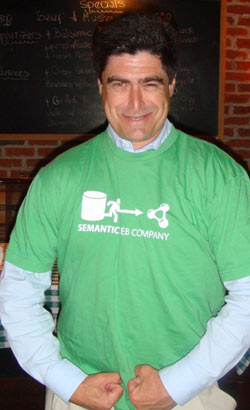 The LinkedData Planet conference is over now. I had a great time here and met a lot of great and inspiring people. The exhibition area especially turned out to be THE meeting point of the conference. People from media companies, major IT-companies like IBM or from governmental and non-governmental organizations were there, meeting up with some of the most prestigious software providers and experts of the semantic web world.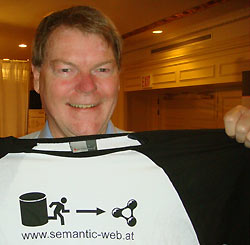 And that says a lot about the semantic web both as a technology and a movement: The semantic future is made happen not behind closed doors or in some ivory tower, not thought up by some secluded genius, but by people, companies and research institutions that are as close to the heart of the web as one can be.
I learned a lot about the upcoming new release of UMBEL (Upper Mapping and Binding Exchange Layer) thanks to Mike Bergman (who you can see in the picture below, sporting Semantic Web Company gear). UMBEL (in the words of the project itself) has two purposes:
1) to provide a lightweight structure of subject concepts as a reference to what Web content or data "is about";
and 2) to define a variety of binding protocols for different Web data formats to map to this "backbone."
You might want have a look at the UMBEL subject concepts explorer provided by Mike's Zitgist: Start exploring here, with a preset concept search for 'Manager'.
I also learned more about the huge variety of possible applications which can be built on top of the Talis platform – thanks to Ian Davis. One example is the Lancashire Lantern WiCI – WiCI because it is a service providing Community Information.
And finally I met Richard Cyganiak in person who gave me a thorough overview of the Semantic Web index Sindice – try a search for Richard Cyganiak to see how it works (and to learn more about him, of course).
I ended up discussing possible applications using linked data with Tom Heath, Mike Bergman, Gregory Williams, Eric Hoffer (picture on top, see also his blogpost where he features the SWC "Escape from the Data Silo" logo) and Marco Neumann, both from Semantic Web Meetup NYC. It was a great evening!
Thank you, folks!
Read also pt. 1 of our conference report: LinkedData Planet in New York: A great community event for all things semantic