The Semantic Web becomes mainstream, again.
The roll-out of semantic web technologies seems to enter the next stage. And it will be a quiet (r)evolution like the open source movement was. Two examples: Next year´s JAX in Mainz/Germany will have its first Semantic Web track. Organisers say that "the Semantic Web is going to conquer the business market soon" – we will see if it will be that martial.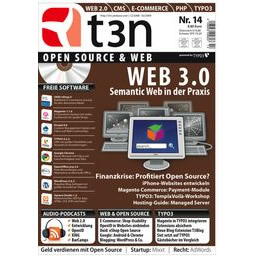 Another example: One of the biggest Open Source Magazines in Germany, t3n, has recently published its new magazine with many stories around the Semantic Web. Editor in chief, Jan Christe says: "We have constantly stumbled upon semantic web related stuff  when we scanned the news, so we decided to set a focus on this topic."
The Semantic Web is tangible now – Christe says: "Applications like OpenCalais, Zemanta or Tagaroo show the end-users what´s really in for them." And it is also nice to see, that the semantic web won´t be reduced down to "search" anymore: t3n´s new issue has also interesting articles about Linked Data, for instance Sören Auer´s "How to develop Semantic Web Applications".
So, as a conclusion: Paul Miller´s waiting for the "Semantic Web in Business" (a great blog post!) has an end. It won´t be found in heavy books, rather in the open source community and sometimes in light-weight magazines.
Yes, we can!