Conceptualizing knowledge with CMMI: the KiWi/Logica usecase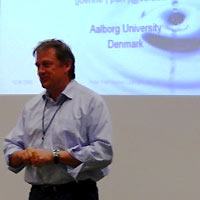 Peter Axel Nielsen, a researcher from Aalborg University who is working on the Logica usecase, started his report by giving us an overview of CMMI, a process improvement approach that is being used by Logica and that is thus going to be of eminent importance for the KiWi/Logica usecase.
CMMI stands for Capability Maturity Model® Integration, and, according to its inventors, "helps integrate traditionally separate organizational functions, set process improvement goals and priorities, provide guidance for quality processes, and provide a point of reference for appraising current processes." CMMI was created by the Carnegie Mellon Software Engineering Institute, and has been adopted worldwide.
CMMI provides a framework for a 5-step path towards maturity in software process improvement – a path that can be expected to take years and which demands a company's full commitment. Peter drew our attention to a volume, fresh from the printing press, which he edited together with Karlheinz Kautz: Software Process & Knowledge. Beyond Conventional Software Process Improvement.*) The volume contains an interesting CMMI case study, "The Road to High Maturity. How the first Danish company reached CMMI level 5 in 100 months," in which the authors emphasize that software process improvement, in essence, is "an organizational change process, that is, the processes in an organization, and the behaviour and interaction of people, groups, projects and, in fact, the whole organization." Some of the benefits reported by the participants in the case study were: reduction of overtime, increased satisfaction of employees, increased opportunities to delegate as a result of formal definitions of roles and greater ease to move between projects.
Switching to CMMI brings with it the benefits of a well-defined, ready to use conceptual model of knowledge – this is, of course, an invaluable asset when it comes to defining the requirements of the KiWi system, which is going to be used as a wiki-based, semantically enhanced knowledge management system for IT project management in the Logica usecase.
*) Peter Axel Nielsen, Karlheinz Kautz (eds.): Software Process & Knowledge. Beyond Conventional Software Process Improvement. Software Innovation Publisher. Aalborg. 2008. ISBN 978-87-992586-0-4 See also: website of the symposium on Software Process & Knowledge that preceeded the publication.