The ESA vocabulary site – Making Publishing and Reusing Vocabularies Easier
Reviewing the interview we made with Les Kneebone (project manager of the vocabulary projects at Education Services Australia) in November 2010 we can see that ESA has been one of the early adopters of SKOS as a standard for thesaurus development. Les said then: "We had already identified SKOS as an important standard for ScOT so it was natural to select PoolParty as our new thesaurus management tool". Around a year later ESA´s vocabulary site went online with PoolParty as its basis.
We asked Les to comment on his statement from last year and he confirmed that SKOS continues to be central to the ESA vocabulary business model and that it has also been important for ESA that PoolParty has been flexible enough to support continued publication of non-RDF formats, especially IMS VDEX.
In the course of this project it became more and more obvious that SKOS cannot only be used as yet another format for publishing thesauri but rather as a unified model to build thesauri in general. This approach made possible several improvements to the vocabulary development model and the maintenance process of ESA. Since all data is stored as RDF in a triple store, and SKOS and RDF are flexible formats supporting interoperability and interchangeability of data, many manual transformations that had to be done before are not needed anymore and all other systems using the vocabularies are dynamically fed by PoolParty offering the data in its needed formats (see image below).
Les states that while some manual processes still exist to support legacy systems, PoolParty ensures the integrity and richness of ESA data. Support and customizations for legacy systems can be achieved in the confidence that the linked-data capabilities are centrally managed and stored in the PoolParty triple store.
From the publishing perspective, the previous vocabulary publishing site has been replaced by the PoolParty Linked Data Frontend (LD-Frontend) that has been customized especially for this project to offer more flexibility in the display and the layout of the data. Similar to the frontend for the Austrian Geological Survey mentioned in a previous blog post , the LD-Frontend has been adapted to the ESA styleguide and the display of the data in the HTML view of the frontend has been adapted to be more user-friendly (see screenshot below).
From ESA's perspective Les commented here that for the vocabulary manager, edits to the frontend styles and templates are intuitive and can be tested in staging environments. But he also stated that for publishing support is important, and that SWC was very responsive.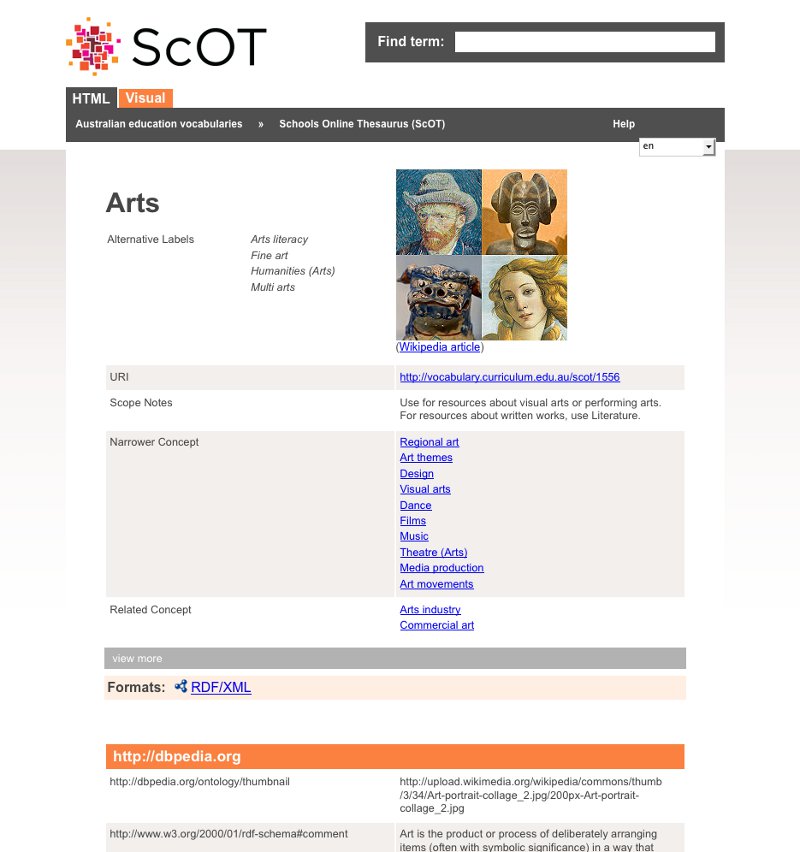 Of course we asked Les to give a preview of the next steps for ESA. He stated that they include language translation projects so that its vocabularies, especially Schools Online Thesaurus (ScOT), can be accessed by wider markets and by students of other languages. He also stated that PoolParty handles multi-lingual thesauri very well.
We here at SWC are glad to see PoolParty used in more and more applications and usage scenarios. We are looking forward to the next steps that will be done in this project and also to see how the data offered by the ESA vocabulary site is used in other applications.
Thanks to Les Kneebone from ESA for his contribution to his blog post.