Social Semantic Web – New Publication Out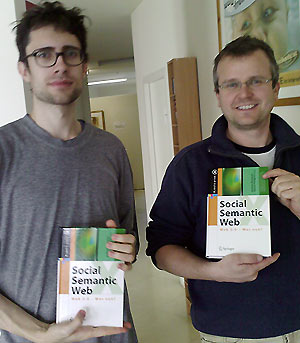 The "Social Semantic Web" is here – yay! The book of the same name, edited by Andreas Blumauer (right) and Tassilo Pellegrini, is now available in stores. Another contributor from SWC is Matthias Samwald (left), who, together with Holger Stenzhorn, discussed the relevance of the Semantic Web for biomedial research in their article for the book.
The publication (in German, with the exception of one article by Narayanan Kulathuramaiyer and Hermann Maurer addressing issues of Data Mining) has four sections:
a low-threshold introduction to Web 2.0 and social software, covering technological, cultural and social aspects,
an overview of core technologies and methods, covering e.g. knowledge discovery, expert finders, tag recommendation, etc,
an overview and discussion of existing applications and their perspectives within the Social Semantic Web, e.g. the Semantic Desktop, Bibsonomy or the perspectives for biomedical research,
a discussion of phenomena of the Social Semantic Web from the perspective of communication studies and social sciences, e.g. privacy on the social semantic web, or the role of user-generated content for individual empowerment.
We have also created a wiki for the book (using Semantic Media Wiki) which is available at social.semantic-web.at. You can, for instance, browse it by article, by author, or by organisation. Tom Schandl made a few changes to available templates, which he is soon going to blog about.
Image by leobard via FlickrAuthor copies were shipped last week – some of the contributors have already blogged about the book, for instance Leo Sauermann, who, together with Malte Kiesel, Kinga Schumacher and Ansgar Bernardi, contributed an article about the Semantic Desktop and personal knowledge management (image also provided by Leo Sauermann). Jan Schmidt a.k.a "Schmidt with Dee Tee", in an article he wrote together with Tassilo Pellegrini, approached the Semantic Web from the perspective of Communication Studies; Jan has posted the abstract (in German) and offered a bit of commentary on his blog. Michael Nagenborg, who authored the article about privacy on the Social Semantic Web, announced the book on his website.
Please let us know if you've also written a blog post about the book or have resources on Flickr, Slideshare, elsewhere; and/or tag it with "socsemweb08" so that we can find it. Of course you can also immediately add them to the wiki yourself (page Resonanz).
Complete list of contributors (in order of appearance in the book):
Andreas Blumauer, Tassilo Pellegrini, Sonja Bettel, Alexander Raabe, Alexander Stocker, Klaus Tochtermann, Jörg Linder, Anupriya Ankolekar, Markus Krötzsch, Than Tran, Denny Vrandecic, Barbara Geyer-Hayden, Michael Hausenblas, Armin Ulbrich, Patrick Höfler, Axel Polleres, Malgorzata Mochol, Erich Gams, Daniel Mitterdorfer, Martin Hochmeister, Sebastian Schaffert, François Bry, Joachim Baumeister, Malte Kiesel, Sören Auer, Jens Lehmann, Christian Bizer, Stefanie N. Lindstaedt, Claudia Thurner, Gernot Tscherteu, Christian Langreiter, Leo Sauermann, Kinga Schumacher, Ansgar Bernardi, Andreas Hotho, Robert Jäschke, Dominik Benz, Miranda Grahl, Beate Krause, Christoph Schmitz, Gerd Stumme, Christoph Wieser, Holger Stenzhorn, Matthias Samwald, Jan Schmidt, Narayanan Kulathuramaiyer, Hermann Maurer, Michael Nagenborg.