Sharing Friend of a Friend Data (FOAF) across Social Networks (Blogtalk Presentation)
One of the many interesting presentations (from what I can gather from a distance;-) at this year's Blogtalk was Uldis Bojars' "FOAF for Social Network Portability". FOAF is a "machine-readable ontology describing persons, their activities and their relations to other people and objects." [Wikipedia] FOAF is currently being further defined and extended by the Friend of a Friend project which was started in 2000 by Dan Brickley and Libby Miller. In their own words:
The idea behind FOAF is simple: the Web is all about making connections between things. FOAF provides some basic machinery to help us tell the Web about the connections between the things that matter to us. Thousands of people already do this on the Web by describing themselves and their lives on their home page. Using FOAF, you can help machines understand your home page, and through doing so, learn about the relationships that connect people, places and things described on the Web. FOAF uses W3C's RDF technology to integrate information from your home page with that of your friends, and the friends of your friends, and their friends…
These days of course, the places where people describes themselves are no longer mainly their own homepages, but social networking sites like Facebook, Bebo, Xing, Studivz – most of you are probably registered with several of these. Last night, for instance, I went to Meral Akin-Hecke's Digitalks – today I got connected with some of the people I met on Xing. And on Facebook. And on del.icio.is – et cetera et cetera. Wouldn't it be so much easier if one could manage one's social network in just one place, instead of having to maintain several separate data silos?
When Dopplr announced plans to make social network imports possible, it didn't take long for people to suggest FOAF import as a solution – and this is exactly the issue that Bojars tackled in his presentation. Have a look at the slides from his talk on slideshare in which he also documents the 'One FOAF Fits All' hack conducted by Alexandre Passant which connects Passant's Flickr, Twitter and Facebook accounts using his own FOAF file as a reference profile.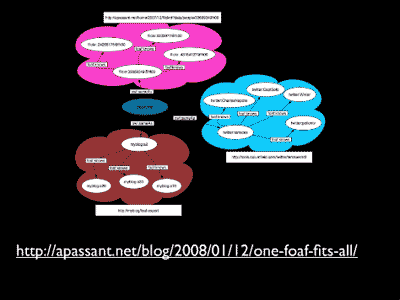 Of course this raises numerous questions, not the least one being the privacy issue. I pitched the 'One FOAF fits all idea' to semantic web expert Martin Hochmeister and he got back to me with this:
This is an absolutely intriguing issue. Potential problems that I see here: (1) 'Who controls the data?' (2) and 'Privacy Domain'

Regarding (1) 'Who controls the data?': This is really the primary issue to me. We have to take into consideration that data are stored by systems and by those systems' owners. But which data precisely are actually being processed in any given scenario, or in a scenario like FOAF import? I guess this is an area that will never be completely transparent to the actual FOAF person. "You own the data!" – is that really possible, in reality?

Regarding (2) 'Privacy Domain': The aspect of privacy can only be assessed for a given area of application. The users on social networking sites like Facebook for instance virtually give up all their privacy rights upon registration – Facebook's reputation has already suffered some damage because of this procedure. Can we really entrust the user with the decision to give his permission for a global use of his or her data? Are users able to assess the dimensions of this decision? Who is going to educate the user about his or her privacy rights and needs – actually, is anybody even prepared to do that? I do believe that such privacy regulations are more likely to work within a company or given community, i.e. within a closed system.