Semantic Tagging with Faviki
In May, a new bookmarking service, Faviki, started which, unlike other bookmarking services, comes to the public semantically enhanced. ReadWriteWeb already had a first look at it and described it as follows:
Faviki is a new social bookmarking tool that offers something that services like Ma.gnolia, del.icio.us, and Diigo do not – semantic tagging capabilities. What this means is that instead of having users haphazardly entering in tags to describe the links they save, Faviki will suggest tags to be used instead. However, unlike other services, Faviki's suggestions don't just come from a community of users and their tagging history, but from structured information extracted straight out of the Wikipedia database. Faviki's backend uses DBpedia, a community-maintained database created by extracting structured info from Wikipedia and turning that into a database which you can query.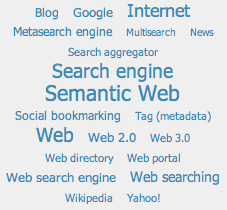 What Faviki does, from a user's perspective, is to suggest tags based on Wikipedia/DBpedia terms – one of the side effects of this procedure being that e.g. "Safety (disambiguation)" can also be chosen as a possible tag – I am not so sure yet whether this is an option that makes sense (although one can probably argue that it neither does any harm, because people should be smart enough not to use such tags). And as the above screen shot of Faviki's tag cloud reveals, it currently seems to be mainly used by people who are interested in the semantic web and search engines (with semantic search being the most promising area of application of semantic technologies). It's probably going to take a while (if ever) before Faviki is going to reach such a diverse user-base as can be guessed from del.icio.us' tag cloud – but then again: Maybe Faviki isn't going to need that, as it doesn't rely on collective tagging, but already benefits from Wikipedia's diversity of entries!

As was also regretted by ReadWriteWeb: It's a pity that there is currently no opportunity to import tags from del.icio.us or other services to Faviki. Who is going to win the bookmarking race? Del.icio.us has the advantage of a broad user-base, and many users already have their networks of fellow bookmarkers which they probably wouldn't want to give up (I personally wouldn't). Bibsonomy has the advantage of an extra feature that allows to bookmark publications and later export them as a uniformly formatted bibliography. If I could make a wish, I'd rather have a service that brings together the best of Faviki, Bibsonomy AND del.icio.us!
Related Websites:
Faviki Blog on WordPress.com
del.icio.us tag cloud