Like a Jigsaw Puzzle: The Similarities between Man and Semantic Machines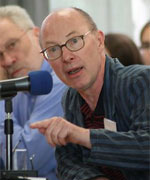 An interview with Herbert Hrachovec, conducted by SWC's own Marion Fugléwicz-Bren, drew my attention to an article by Hrachovec in which he explored what he calls the "irreconcilable similarities" between man and semantic machines:
Treating certain systems (computers, brains) as mechanisms working towards potentially meaningful results by purely formal procedures has proved to be a fruitful research program. Think of a jigsaw puzzle. The shape of its pieces contains no information about the content of the representation that has to be retrieved. Finding out how the pieces fit together is a syntactic activity that can be performed according to formal principles. All those pieces just fit together in the end; but, remarkably enough, a picture of something has been assembled by this process. Evidently it is possible, by appropriate construction, to integrate formal procedures and the more complex relationships between signs and their interpretation. A puzzle illustrates semantic machines insofar as it leads to representation of reality in the absence of any prior semantic information.
When do you think this article whas published? Not in 2001, not in 1993, but way back in 1986 when the semantic web was a mere twinkle in Tim Berners-Lee's eyes.
Herbert Hrachovec is deputy head of the Dept. of Philosopy at Vienna University and a researcher with a special focus on aesthetics (in particular film aesthetics), logic, analytic philosophy and, most importantly for this context, the philosophy of new media; the Viennese Dept. of Philosophy comprises a separate research unit devoted to 'Analytic Philosophy and Digital Media Theory'. You can download the full article here, or proceed to the SWC homepage to read the interview with Hrachovec (available in German only at this point – sorry for the inconvenience).