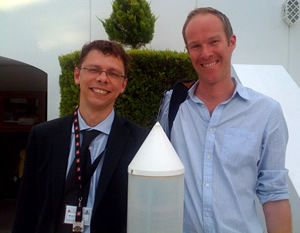 ESWC 2009 is not over yet – but I am happy to announce: The Semantic Web Community is more alive than ever before! We had four days of brilliant talks, vibrant meetings, and great atmosphere so far. Some highlights:
Chris Bizer presentation of Berlin SPARQL Benchmark (BSBM) or Enrico Minacks´s talk about benchmarking RDF stores showed that base technologies of the semantic web are mature enough for real-world applications.
Use cases from many domains like biodiversity, astronomy or multi-media showed clearly the trend that the semantic web becomes "ubiquitous" and has left the labs.
The idea of Linking (Open) Data became pre-dominant in the community, many projects are built around this infrastructure already. But there is a clear demand for improved ontology matching or brokering services like the recently released <sameAs>
Martin Hepp´s lightning talk about "What makes for a good ontology?" and emotional reactions from the audience on that showed, that grass-root approaches and top-down approaches for ontology building still haven´t grown together, but they are getting closer 😉
Weather and food here in Crete is great!