Free Webinar: How NPOs and NGOs make use of Linked Data and Controlled Vocabularies
NPOs and NGOs are acting more-and-more as open data providers for various stakeholders like citizens, enterprises and communities. Linked open data becomes a key concept to meet several demands of information professionals, for instance interoperability and accessibility of data, multilinguality and harmonisation of metadata.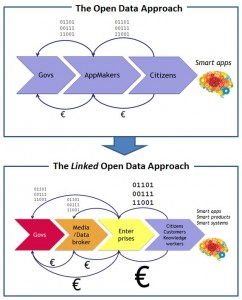 The open data value chain is about to change from a rather simple to a more complex network of data streams which produces new revenue models and more differentiated roles – linked open data plays a central role in this development.
This webinar is about the use of linked open data and controlled vocabularies in the specific enviroments, NGOs and NPOs are working in. Get an overview about the underpinning motivation and concepts which drive the very concrete use cases which will be presented:
Andreas Blumauer – Semantic Web Company: Linked Data and Controlled Vocabularies – concepts for NPOs and NGOs

Claudio Baldassarre – Food and Agriculture Organization (FAO) of the UN: The Fisheries Linked Open Data project – data harmonization with semantic technologies
Register for Free
Tuesday, October 9, 2012 5:00 PM – 6:00 PM CEST
https://www2.gotomeeting.com/register/261932082
About the Fisheries Linked Open Data (FLOD) project: It is the Fisheries division (FI) case study to test an approach to data harmonization with semantic technologies. Inside FLOD more than 10 coding systems consistently co-exist. The coding systems classify entities from the following domains: land and marine geography, land and marine geo-politics, fishery legislation, and fishery techniques, with others planned for connection in the future. FLOD is used as an integrated FI data source in geospatial applications and as a data aggregator in the FIGIS web portal, while new use cases are decreeing it the glue among pre-existing FI information systems, as well responding to requirements of query federation from remote information systems.