European Data Forum's Call for Contributions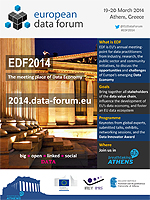 The European Data Forum (EDF) is an annual meeting place for industry, research, policy makers, and community initiatives to discuss the challenges and opportunities of data in Europe, especially in the light of recent developments such as Open Data, Linked Data and Big Data.
EDF 2014 will be held in Athens, Greece on March 19-20, 2014. The program will consist of a mixture of presentations, panels and networking sessions by industry, academics, policy makers, and community initiatives. Topics will cover a wide spectrum of research and technology development, applications, and socio-economic aspects of the data value chain.
Call for Contributions
EDF 2014 is seeking inspiring presentations addressing the topics listed below:
Innovative research and technology for Open Data, Linked Data and Big Data
Applications
Socio-economic and policy issues
Data visions for the future
Proposals for presentations should be submitted as a single PDF file at https://www.easychair.org/conferences/?conf=edf2014 or sent via e-mail to edf2014@data-forum.eu. Proposals will be reviewed by the Organizing Committee of EDF 2014 according to their relevance to the scope and purpose of the event.
Important Dates
Submission of proposals:  December 10 2013, 22.00pm CET
Notification of acceptance or rejection: early January 2014
Full EDF2014 program available: end of January 2014