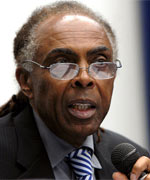 Why don't we think of coalition negotiations in a new dress: Maybe these are the topics we should rather discuss in our governments – all throughout Europe… The Brazilian government has expressed its support of free culture, free software, creative commons licenses. I would wish that more countries had the advantage of having a Minister of Culture who is not only a fabulous musician but also a person who fights for Digital Rights and a free digital society.
Who would believe hacker culture to be a role model? How about establishing a Hackers Republic? Might this be an alternative? Let's have a look… "Today's digital technologies represent a fantastic opportunity for democratizing access to knowledge," says Gil. The free culture advocate and Brazilian Minister Gilberto Gil continues that … "…digital technology offers a rare opportunity to bring knowledge to under-privileged people around the world and to include them in the political process."
And what about culture? Isn't it also about interactivity? Gil: "The creation and distribution of content, artistic or scientific, have always been based on interactivity. Culture is interactivity and in the context of the new technological convergence we may guarantee the balance between all the different interests at stake, the individual, the social, the corporate, and so on. Exemptions will be always necessary to be considered and regulatory bodies will exactly play the role of establishing sets of rules for all the players involved."
Da capo, Mister Gil. And, by the way, isn't it high time for all of us to learn Jazz Samba? Asks Marion, listening to Samba (see below) writing this.