Cultural heritage and the Semantic Web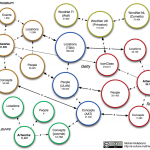 The semantic web is suffering of data. Still. To get the network effects we expect to have with the use of the semantic web, there is still the need to open quality content to the semantic web world. One of the fields where such an opening to the RDF-world should happen, is cultural heritage. As works, people, history and references are distributed over various places, archives, libraries and holders of data, a semantic web approach seems to be perfect to resolve a lot of questions in making the world cultural heritage available.
Europeana is such a promising project. Europeana is funded by the European Commission under the eContent+ programme, as part of the i2010 policy. It is a partnership of 100 representatives of heritage and knowledge organisations and IT experts from throughout Europe. In the last two years Europeana's prototype was done technically and in terms of connecting contents from various European museums, governmental organisations and art foundations. At Europeana two million books, maps, recordings, photographs, archival documents, and paintings can be found. This figure should be raised – with financial support of the European comission – up to 10 million entries until 2010. An effort which will take approximately 350 million euro.
Under the lead of Stefan Gradmann (University of Hamburg) semantic technologies within the framework and also to the outside semantic web are implemented. Even the now running beta version of Europeana focuses on traditional browsing and search algorithms, an additional semantic europeana prototype gives some insights into further developments of Europeana to a well intergrated semantic web service. So, hopefully we can expect a connection of big content networks to the LOD-cloud soon.
Projects like Europeana will go its way to a rich web of data. Hopefully this is not only a development which public institutions follow. Also commercial initiatives dealing with cultural heritage – say Google – should consider a connection of their harvested data into a bigger semantic web.