Cuil – bigger, better, semantic, more – or what?
The blogosphere is abuzz with Cuil – according to its inventors Cuil is "an old Irish word for knowledge. For knowledge, ask Cuil." If it's got knowledge in it, it must have something to do with semantics – and like most of its competitors in the semantic arena, Cuil doesn't lift the lid to show us what exactly is cooking in their pot. But it must have something to do with concepts and relationships – and their privacy promise also has some appeal in the era of data retention. Here is how they put it:
Rather than rely on superficial popularity metrics, Cuil searches for and ranks pages based on their content and relevance. When we find a page with your keywords, we stay on that page and analyze the rest of its content, its concepts, their inter-relationships and the page's coherency.

Then we offer you helpful choices and suggestions until you find the page you want and that you know is out there. We believe that analyzing the Web rather than our users is a more useful approach, so we don't collect data about you and your habits, lest we are tempted to peek. With Cuil, your search history is always private.
And of course there is the promise of the biggest index on the web ever, three times as big as Google's, ten times as big as Microsoft's… but size isn't everything, I say, so let's rather have a look at the (semantic) user experience.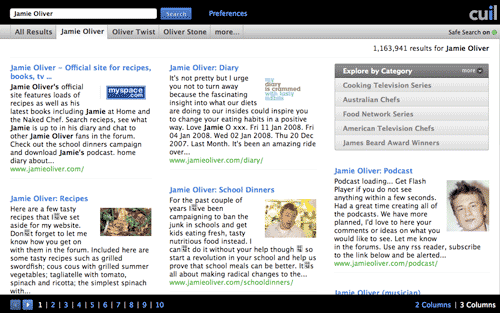 Cuil did receive some praise for it's (web 2.0.ish) appearance – meaning that the search field has, well, rounded edges and the search button comes with a shine (and the background is pitch black, so if Cuil manages to become as popular as Google, this might even reduce global warming:-). But the presentation of the search results is indeed pleasing to the semantic eye: The so-called "drilldown" shows related categories and instances for these categories and roll-over definitions for these terms. The search field recommends popular search terms, the results are organized in paragraphs, alternative searches are suggested in tabs – "Jamie Oliver" yields several alternative tabs, "RDF", by comparison, doesn't yield any.
On top of that, Cuil is REALLY fast – or at least today it is. Yesterday on Twitter, people were complaining about the page not loading – probably no surprise after the media frenzy that ensued after its launch. Lest I forget: Cuil was launched by former Google employees – and who would be in a better position to attack and cull (cheap pun) Google if not former Googlistas? Hence the frenzy.
Related articles by Zemanta