BibSonomy – the blue social bookmark and publication sharing system
BibSonomy is a Web 2.0 style collaborative bookmarking and publication management system. In the style of YouTube, Flickr and Del.icio.us, it allows you to store the metadata of your own publications and of all papers that you consider interesting, It also allows to store bookmarks – and to share them with others.The Semantic Web Blog already reported about BibSonomy on The Wild vs The Orderly: Folksonomies and Semantics (TRIPLE-I 2008) in September 2008. The BibSonomy team is very active, and has implemented many new features.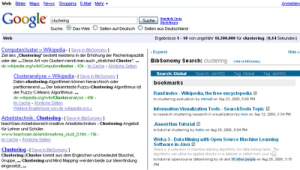 It is thus high time to tell you about them. Let's start with the new layout, introduced in December. It's much closer to the Web 2.0 look & feel, with pastel colors and rounded corners. The navigation has become a bit more consistent, and you can now select if you want to see both bookmarks and publications, or just one of the two. BibSonomy is also available in German now. Most other extensions of BibSonomy are about integration with other systems. The most useful are:
GoogleSonomy is a new firefox addon which integrates search results from BibSonomy directly in your Google search. The addon is customizable

so

that you can decide whether to search in your personal publications and/or bookmarks, or to search over all BibSonomy posts.The extension is available from the Mozilla Addon Page.
BibSonomy now also allows to export citation information to Zotero. Zotero is a Firefox extension, which helps you to collect, manage and cite publications locally in your browser. The other way around is not fully automized yet. However, there is a copy and paste workaround.
Bloggers who are using WordPress can integrate data from BibSonomy into their posts – for instance your tag cloud, or your last three publications (or all of them). Conversely, your blog posts will (almost) automatically be published on BibSonomy. A more general way of including BibSonomy content into your system is BibSonomy's JSON feed. JSON (JavaScript Object Notation) is a lightweight data-interchange format, which is now available for all BibSonomy pages.
As alternative login procedure, BibSonomy now also supports OpenID, which is an open, decentralized standard, allowing users to log onto many different services on the web using the same identity identification (single sign-on). This kind of authentication is provided by a growing number of websites, including large ones like AOL, Google, Microsoft, MySpace, Yahoo and many others. You may even have an OpenID without knowing

so

, e.g. when you have a Flickr account. Why not using it for logging in to BibSonomy as well?
The family of scrapers for automatically extracting references from digital libraries or publishers' websites has been extended, allowing you to store publication metadata automatically from over 60 sites. The scraping service can be used independently from BibSonomy for other purposes by everyone needing access to bibliographic metadata.
If you want to learn more about these features, visit the BibSonomy blog. Last but not least there exists a new BibSonomy developer site. It provides access to some of the BibSonomy modules. All source code is released under GPL LGPL licenses. If you want to experiment with the code, have a look!