Automatic Semantic Tagging for Drupal CMS launched
REEEP [1] and CTCN [2] have recently launched Climate Tagger, a new tool to automatically scan, label, sort and catalogue datasets and document collections. Climate Tagger now incorporates a Drupal Module for automatic annotation of Drupal content nodes. Climate Tagger addresses knowledge-driven organizations in the climate and development arenas, providing automated functionality to streamline, catalogue and link their Climate Compatible Development data and information resources.

Climate Tagger for Drupal is a simple, FREE and easy-to-use way to integrate the well-known Reegle Tagging API [3], originally developed in 2011 with the support of CDKN [4], (now part of the Climate Tagger suite as Climate Tagger API) into any web site based on the Drupal Content Management System [5]. Climate Tagger is backed by the expansive Climate Compatible Development Thesaurus, developed by experts in multiple fields and continuously updated to remain current (explore the thesaurus at http://www.reegle.info/glossary). The thesaurus is available in English, French, Spanish, German and Portuguese. And can connect content on different portals published in these different languages.
Climate Tagger for Drupal can be fine-tuned to individual (and existing) configuration of any Drupal 7 installation by:
determining which content types and fields will be automatically tagged
scheduling "batch jobs" for automatic updating (also for already existing contents; where the option is available to re-tag all content or only tag with new concepts found via a thesaurus expansion / update)
automatically limit and manage volumes of tag results based on individually chosen scoring thresholds
blending with manual tagging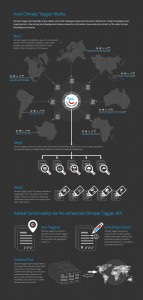 "Climate Tagger [6] brings together the semantic power of Semantic Web Company's PoolParty Semantic Suite [7] with the domain expertise of REEEP and CTCN, resulting in an automatic annotation module for Drupal 7 with an accuracy never seen before" states Martin Kaltenböck, Managing Partner of Semantic Web Company [8], which acts as the technology provider behind the module.
"Climate Tagger is the result of a shared commitment to breaking down the 'information silos' that exist in the climate compatible development community, and to provide concrete solutions that can be implemented right now, anywhere" said REEEP Director General Martin Hiller. "Together with CTCN and SWC laid the foundations for a system that can be continuously improved and expanded to bring new sectors, systems and organizations into the climate knowledge community."
For the Open Data and Linked Open Data communities, a Climate Tagger plugin for CKAN [9] has also been published, which was developed by developed by NREL [10] in cooperation with CTCN's support, harnessing the same taxonomy and expert vetted thesaurus behind the Climate Tagger, helping connect open data to climate compatible content through the simultaneous use of these tools.
REEEP Director General Martin Hiller and CTCN Director Jukka Uosukainen will be talking about Climate Tagger at the COP20 side event hosted by the Climate Knowledge Brokers Group in Lima [11], Peru, on Monday, December 1st at 4:45pm.
Further reading and downloads
About REEEP:
REEEP invests in clean energy markets in developing countries to lower CO2 emissions and build prosperity. Based on strategic portfolio of high impact projects, REEEP works to generate energy access, improve lives and economic opportunities, build sustainable markets, and combat climate change.
REEEP understands market change from a practice, policy and financial perspective. We monitor, evaluate and learn from our portfolio to understand opportunities and barriers to success within markets. These insights then influence policy, increase public and private investment, and inform our portfolio strategy to build scale within and replication across markets. REEEP is committed to open access to knowledge to support entrepreneurship, innovation and policy improvements to empower market shifts across the developing world.
About the CTCN
The Climate Technology Centre & Network facilitates the transfer of climate technologies by providing technical assistance, improving access to technology knowledge, and fostering collaboration among climate technology stakeholders. The CTCN is the operational arm of the UNFCCC Technology Mechanism and is hosted by the United Nations Environment Programme (UNEP) in collaboration with the United Nations Industrial Development Organization (UNIDO) and 11 independent, regional organizations with expertise in climate technologies.
About Semantic Web Company
Semantic Web Company (SWC, http://www.semantic-web.at) is a technology provider headquartered in Vienna (Austria). SWC supports organizations from all industrial sectors worldwide to improve their information and data management. Their products have outstanding capabilities to extract meaning from structured and unstructured data by making use of linked data technologies.
[2] Climate Technology Centre and Network, http://www.unep.org/climatechange/ctcn/Home/tabid/131937/Default.aspx
[3] Reegle Tagging API, http://api.reegle.info/
[4] Climate and Development Knowledge Network, http://cdkn.org/
[5] Drupal Open Source Content Management System, http://www.drupal.org
[6] Climate Tagger Website: http://climatetagger.net
[7] PoolParty Semantic Suite, http://www.poolparty.biz/
[8] Semantic Web Company, http://www.semantic-web.at
[9] CKAN, http://www.ckan.org
[10] NREL is a national laboratory of the U.S. Department of Energy, Office of Energy Efficiency and Renewable Energy, operated by the Alliance for Sustainable Energy, LLC