A New Kid on the Blog: Pascal Hitzler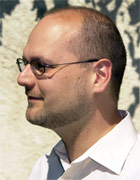 I am proud to present a new author on this blog: Pascal Hitzler, an Assistant Professor and Postdoctoral Researcher and Project Leader at the AIFB Knowledge Management Group; AIFB is the Institute for Applied Computer Science and Formal Description Methods at the University of Karlsruhe in Germany.
The name sounds familiar but you cannot recall when or where you've met him? You have probably read or seen a copy of the very readable German textbook about the Semantic Web he co-wrote – he will say a few more words about this in a few blog moments. Some keywords to shed more light on his main academic interest, knowledge representation and reasoning: semantic web, description logics, non-monotonic reasoning, neural-symbolic integration, conceptual structures, domain theory, topology, fixed-point theory. Learn more about Pascal on his website.
Btw, sorry for the lame pun in the heading. I am sure it has been done a gazillion times before, but I just couldn't help it – in particular not in the year of the NKOTB reunion!. Promise won't happen again. Thanks, Pascal, for bearing with me;-)