GBPN Knowledge Platform using Semantic Technologies and Linked Open Data launched
The brand new web based GBPN Knowledge Platform has been launched on 21 February 2013. It helps the building sector effectively reduce its impact on climate change!
It has been designed as a participative knowledge hub and data hub harvesting, sharing and curating best practice policies in building energy performance globally. Available in English and soon in Mandarin, this new web-based tool of the Global Buildings Performance Network (GBPN) aims to stimulate collective research and analysis from experts worldwide to promote better decision-making and help the building sector effectively reduce its impact on climate change. To sustain and accelerate change in the building sector, the GBPN encourages open and transparent access to good quality and verifiable data. The data can be used and re-used in HTML, PDF and machine readable raw data (CSV) formats – provided by a Creative Commons Attribution (CC-BY 3.0 FR) license.
The GBPN Knowledge Platform is built on Drupal CMS and seamless connected with the PoolParty Semantic Information Management Platform of Semantic Web Company. Thereby this knowledge platform makes use of semantic technologies and Linked Open Data (LOD) principles and techniques under the hood. A lot of the available data of the various GBPN tools is provided as (linked) open data under a Creative Commons Attribution license. The Semantic Web Company is responsible for conceptual design and technical implementation of the GBPN Knowledge Platform.
As follows an overview and description of the most important features, tools and services of the information management system.
Beside others the GBPN Knowledge Platform offers the following tools and services:
The Linked Open Data (LOD) based GBPN Terminology: http://bit.ly/YSbD9S
gathering key terms in the field of buildings energy performance to fill the lack of a common terminology and facilitate international research collaboration. The GBPN Terminology is linked with DBpedia at the moment and will be linked to other relevant sources as for instance the reegle Thesaurus on Clean Energy and Climate Change soon! Also a SPARQL endpoint to query the data is available.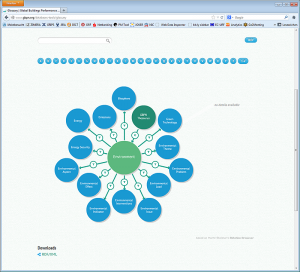 The GBPN News Aggregator Tool: http://bit.ly/13JLJqk
based on semantic technologies, aggregating RSS news feeds from several 3rd party online information sources provides powerful search and filter mechanisms on the basis of automated semantic annotation based on the PoolParty PPX Extractor Technology.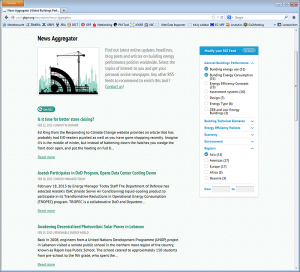 The GBPN Policy Comparative Tool: http://bit.ly/X9Vihm
enabling comparison of the world's best practice policies for new buildings (residential and commercial), by reviewing 25 state of the art building energy efficiency codes and using 15 criteria developed with some of the world's leading experts in the field. The Policy Comparative Tool provides interactive data visualization. Users can access detailed building codes information, search specific parameters and generate graphs and comparisons on the fly. By understanding how jurisdictions have designed and implemented best practice codes and supporting packages, policy makers can use this information to strengthen the future design of dynamic policies that can help move the building stock towards zero energy.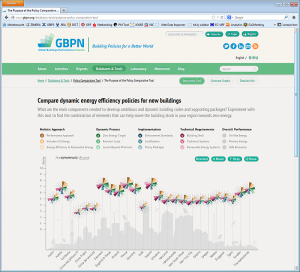 This Comparative Tool provides raw data / open data for free download and re-use of the interactive graph generation tool: http://bit.ly/XU3NNv in CSV format.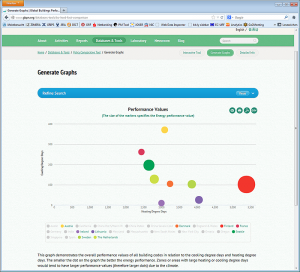 Further features and services of the GBPN KNowledge Platform are:
A Report Database: http://www.gbpn.org/reports
a unique knowledge pyramid presenting all of our publications in 10 different formats to address the information needs of different stakeholders. Users can browse our database and check out which steps of the GBPN knowledge pyramid best suits their information needs.
The Laboratory: http://www.gbpn.org/laboratory
a participative platform for building energy efficiency experts to share information and generate knowledge on how best to develop ambitious building energy performance policies globally. The Laboratory focuses on two main topics: Positive Energy Buildings and More and Deeper Renovation.
A webblog: http://bit.ly/X9VSeW
to explore blog posts from the GBPN's experts around the world.
The platform also connects to the GBPN Regional Hubs data portals:
Buildingsdata.eu, a comprehensive open data portal for energy efficiency in European buildings developed by the Buildings Performance Institute Europe (BPIE) in 2012 (http://www.buildingsdata.eu) .
Buildingrating.org, the leading online tool for sharing global intelligence and best practices on building rating and disclosure policies worldwide launched by the Institute for Market Transformation (IMT) in 2011 (http://www.buildingrating.org).
How to participate in this project?
As we wish to favour new synergies with energy efficiency experts and building professionals and help influence change in the building sector, we invite you to join us and contribute in enriching this collaborative knowledge platform. The GBPN Knowledge Platform is a (Linked) Open Data project that aims to open and connect with the best resources, data and information on buildings energy performance policies worldwide. Feel free to suggest us any further opportunities for collaboration through data exchange projects and research partnerships.
How to help promote this new tool?
In order to reach as many relevant stakeholders as possible, please feel free to spread the word around your organisations and contacts through your Twitter accounts, websites and/or blogs.
You can also Follow us on Twitter, Facebook and LinkedIn to find out more about the GBPN and its activities and subscribe to our Newsletter to receive regular updates from the GBPN network.
Please explore the GBPN knowledge plattform via: http://www.gbpn.org – your feedback is more then welcome!
The GBPN is open for collaboration and co-operation – see contact details as follows.
————————————————
Anne-Claire BELLEC
Communications Manager
9 rue du Quatre Septembre
75002 Paris – France
+33 6 68 40 15 15
Twitter: @GBPNetwork
Discover our Knowledge Platform: www.gbpn.org
————————————————