iSemantics 2012 – Visualization of Linked Data in Focus
The I-Know / I-Semantics 2012 is over, leaving their mark in the minds of nearly 500 participants: in more than 100 presentations, poster sessions and discussions latest trends and technologies of the Semantic Web and Knowledge Management world were presented. While the I-Know focused on workplace-based and computer-assisted learning, the I-Semantics' central topic was the utilization of Linked Data.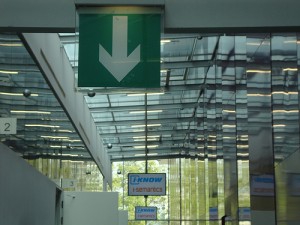 Most current issues are the visualization of Linked Data and the automatic development of large, graph-based structures using Spreading Activation (graph-based algorithms for information retrieval and recommender systems). Five keynote lectures by Lora Aroyo (VU University Amsterdam), Eric Duval (Katholieke Universiteit Leuven), Chris Welty (IBM), David Mallon (Bersin & Associates) and Andreas Schneider (Roche Diagnostics) completed the program and provided a good balance between scientific visions and applied practice.
The Semantic Web Company organised live demos of PoolParty at their booth and received very positive feedback from the booth visitors concerning the simplicity and usability of the platform. By providing communication interfaces to CMS such as Sharepoint the Semantic Web Company has definitely chosen the right strategy to meet the needs of the business world: companies and consultants of several industries such as the automotive industry or business intelligence showed strong needs for the integration of lightweight knowledge models such as a thesaurus into enterprise infrastructures. Christian Dirschl (Wolters Kluwer) and Horst Baumgarten (Roche) underlined this approach by providing practical insights in their speeches about the use of PoolParty in their companies for the creation of (publicly) available vocabularies and their use in global and multilingual intranets. See you again in Graz next year!
Related articles